School News
« Previous Entries
Next Entries »
The St. Louis County Missouri Regional Championships of Poetry Out Loud were held earlier this month at the Florissant Civic Center Theatre. Poetry Out Loud is a national poetry recitation contest supported in all 50 states by the National Endowment for the Arts and the Poetry Foundation.
Read more on Florissant Civic Center Hosts Poetry Out Loud Regional Championships…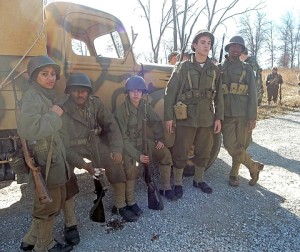 Out of the classroom and into the trenches is where you would have found our Advanced History class January 16-17. North County Christian School Advanced History class trains throughout the semester so they can be approved to participate in a WWII Reenactment at Camp Clark in Nevada, MO. Our students are not alone at Camp Clark: men, women, and students from several states representing the US, Italian, Russian and German armies come together for a week-end of reenactment. This semester, our students will be studying the Civil War which will conclude with a Civil War reenactment in April.
Read more on NCCS Advanced History Class Participates in WWII Reenactment…
 By Bob Lindsey
The Ferguson-Florissant School District Board of Education last week introduced Dr. Joseph Davis as the new superintendent, effective July 1.
The board unanimously approved Davis' appointment on Jan. 30 and directed the negotiation of his contract. The contract, signed on Feb. 6 and ratified by the Board on Feb. 10, will run July 1, 2015 through June 30, 2018. Davis will receive an initial annual salary of $200,000.
Read more on Ferguson-Florissant District Names Joseph Davis New Superintendent…
More than 750 members of the community spent a recent sunny Saturday talking to university representatives about summer engineering programs, getting their hands sticky in slime, and learning how a 3D printer works, among other things.
Read more on Hazelwood District Attracts Students, Families to 2015 STEM Extravaganza…
Approval Would Fund Infrastructure Upgrades
The Ferguson-Florissant School District has announced it will seek a no tax increase $31 million bond issue, Proposition I,  in the upcoming April 7 election.
If approved, Proposition I would fund upgrades to the district's infrastructure including security improvements, building repairs and renovations. A district spokesperson said the bond issue would also upgrade classroom technology to help the district deliver innovative instruction and learning opportunities that prepare students for 21st century careers. This would include conversion of a district school into a Science, Technology, Engineering, Arts and Math (STEAM) Learning Center.
Read more on Ferguson-Florissant District To Seek $31 Million Bond Issue on Apr. 7th Ballot…
Dr. Bryan Davis of Columbus, Wis., and Dr. Joseph Davis of Plymouth, N.C.
will meet Ferguson-Florissant district stakeholders at events Jan. 29 & 30
Read more on Ferguson-Florissant Names 2 Finalists for Superintendent Post…
« Previous Entries
Next Entries »