School News
« Previous Entries
Next Entries »
Students from Hazelwood West and East High schools brought smiles to the faces of competitors when the two schools hosted Special Olympics track and field events recently. One hundred sixty athletes from 10 different schools, including Hazelwood East High, Riverview, Pattonville, and Marquette high schools, plus several Vocational Skills Programs (VSPs) participated. VSPs are job training programs for Special School District (SSD) students age 18 to 22 years. Among the VSPs represented were VSP Missouri Veteran Home, VSP Garden Villas North and VSP Lambert Airport. All athletes received a ribbon for their efforts.
Read more on Hazelwood East and West High Schools Host Special Olympics…
Read more on NCCS Advanced History Class Joins in Civil War Reenactment…
The Ferguson-Florissant School District Board of Education has approved David Arledge and Courtney Ford as assistant principals of McCluer High School and Walter Collie as assistant principal of McCluer North High School for the 2015-16 academic year.
Read more on New Assistant Principals Named for McCluer, McCluer North for 2015-16…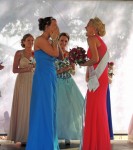 The 2014 Valley of Flowers Queen Alex Phifer
celebrating her last moments as queen by crowning
Courtney Neisler as the 2015 Queen.
Another Perfect May Day For Valley of Flowers and
At an open house for educators and the public the Ferguson-based Challenger Learning Center–St. Louis introduced two new Earth-themed educational programs in time for Earth Day, April 22.
Students across the St. Louis area will benefit from a new STEM learning opportunity through the simulated space mission called Earth Odyssey™ and the Wind Turbine Design Challenge workshop. These new programs at the North County facility allow students to experience hand-on opportunities in STEM learning.
Read more on Ferguson-based Challenger Learning Center Launches New Space Mission…
The Hazelwood School District (HSD) Board of Education has announced the hiring of additional new administrators for the 2015-2016 school year.At the April 14 board meeting, the Board of Education approved the hiring of the following administrators:
Read more on Hazelwood Interim Supt. Names 3 New Administrators for '15-'16…
« Previous Entries
Next Entries »