Delmar Gardens Recognized by City of Black Jack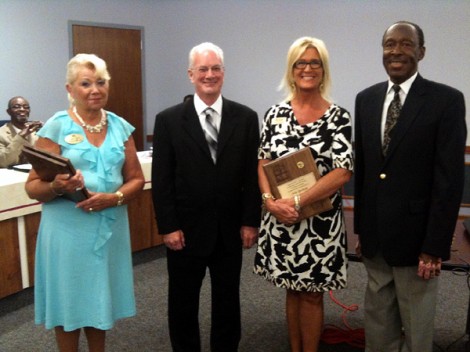 BLACK JACK HONORS DELMAR GARDENS: From left are Delmar Gardens North Director Cathy Bono, Black Jack Mayor Norman McCourt, Delmar Gardens Villas Director Julie Berthold, and Black Jack Councilman Ben Allen.
Mayor Norman McCourt and the Black Jack City Council presented plaques to Cathy Bono, Julie Berthold, and Gabe Grossberg of the Delmar Gardens Family.
Delmar Gardens has hosted and supports many functions for the community within their facilities through the years.
Mayor Norman McCourt said, "It is a very positive attribute for a community when you have a business step up to the plate and provide such community based activities and events. Delmar Gardens is always the first to open its doors for community events, and in this day and age, that commitment is hard to find. We applaud the outstanding commitment that the Delmar Gardens family has made not only to the City of Black Jack, but all of  North County."
Social Bookmarking
Comments
You must be logged in to post a comment.