Ferguson Celebrates Holidays and offers Twilight House tour
Downtown Ferguson:
Holiday Shopping, Varied Restaurant Fare Await Visitors
The business community in Ferguson is in full gear for holiday shoppers and diners. Here is what a few business owners had to say:
Cathy Frankum of Ga Ga's Vintage Furniture and Gifts has been in the gift and antiques business for over eight years, the last six being at her current location at 258 South Florissant Road. Her quaint shop can be found at the south side of the building that houses El Palenque Mexican Restaurant.
"I'm a nurse at St. Lukes in my "real life", but I love this place," said Cathy.
She was joined by Sarah Fletcher of Rainbow Flowers to share the space three years ago. Sarah has been a florist for over 12 years.
"What people say about us is that we are unique and original. My work is very contemporary, and Cathy can really put together unusual and attractive designs," Sarah said.
Gerry Noll has a passion for cycling that has resulted in his opening Ferguson Bicycle Shop, a full-service sales and service operation. The shop is located in the Streetcar Lofts apartment building at 429 South Florissant, next to Cork Wine Bar and across the street from Ferguson Brewing Company and Marley's Bar and Grill.
"I retired a few years ago and decided to do this," Noll said recently. "It's more like a hobby than a job. And Ferguson is a great area with lots of support for a business like this."
Other retail shops open in Ferguson include: The Internet Café, Ferguson Optical, DIY Hardware, Midwest Cycle  Plus there are others Hair salons, auto
repair businesses and the new Ferguson Car Wash that just opened.
This house in Chatelet Woods is part of the Ferguson House Tour on Dec. 11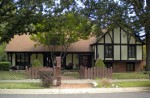 Ferguson's Christmas House Tour Dec. 11
Known for its charming historical neighborhoods and beautiful vintage homes, the City of Ferguson is once again hosting a Twilight Christmas House Tour.
Scheduled for Sunday, Dec. 11, from 4-7 p.m., the tour features a fine selection of properties decked out in full holiday decor, some of which are currently on the market for sale.
Tickets for this popular event are being offered for a suggested goodwill donation of $8, with all proceeds benefiting needy local families though the Ferguson Caring League. Tickets and tour maps will be available at 427 S. Florissant Road, starting at 2 p.m. on Dec. 11.
Show your map at Ferguson Brewing or Cork Wine Bar for $1 off a pint of freshly brewed beer.
The Twilight Christmas House Tour is sponsored by Pearce Neikirk & Partners • REALTORS and US Bank. For more information or to reserve tickets, call (314) 521-5002 or (314) 359-5927.
Social Bookmarking
Comments
You must be logged in to post a comment.