Florissant Rotary Club Donates More Than $105,000 To Local Charities for 2010-2011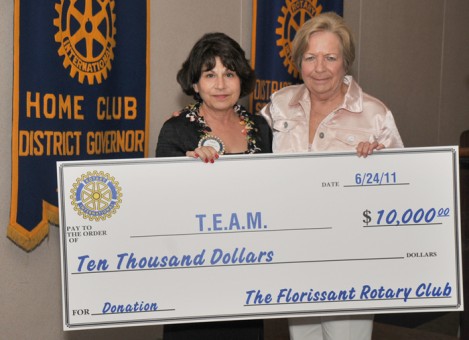 JoAnn Donovan, Florissant Rotary retiring president, presents a $10,000 check to Betty Seeney, TEAM executive director. Rick Niblett photo
JoAnn Donovan, retiring president of the Florissant Rotary Club, and Robert Lowery, Sr., former Mayor of Florissant and club member, have announced the list of beneficiaries of Rotary donations from 2010-2011. Some of these charitable organizations have been hit hard with lack of monetary donations do to the tough economic times this country has been facing.
Listed below are the following organizations that have received money from the Florissant Rotary Club:
$10,000 – The Emergency Assistance Ministry. T.E.A.M. Food Pantry (who collectively assist the needy and hungry in the North County area).
$10,000 – Florissant Valley Shelter Workshop. A not for profit organization that employs individuals that are 21 years of age or older and has been diagnosed as developmentally disabled. The workshop provides these individuals with an opportunity to be gainfully employed, and work to the best of their abilities… to develop skills and, most important, to function as contributing tax paying members of the community.
$10,000 – Joplin Tornado Relief Fund. Provide supplies and relief to the victims and their families that have suffered through this tragedy.
$11,000 – Ferguson Tornado Relief Fund. Help provide supplies and relief to the families that have fallen victim to this devastating tornado.
$2,500 – Marygrove Children Center. Marygrove has a rich history of more than 200 years caring for children, teens and young adults, offering a safe and healing environment for its residents. The children and adolescents who are placed at Marygrove have often been through multiple, failed placements in other residential facilities or foster homes. Many come from abusive, violent and severely disruptive family situations; some come from failed adoptions; and, in a few instances, children are discharged from psychiatric hospitals directly to Marygrove. Most of the residents are dual diagnosed with behavioral and psychiatric disorders as a result of abuse and neglect. Without Marygrove's services, these children and adolescents would face a future living in a much more restrictive environment.
$2,500 – SSM DePaul Health Foundation Center. A not for profit organization that provides funding for the latest advancement in medical technology.
The Florissant Rotary Club has given 50 years of dedicated commitment to the communities in and around North County and the St. Louis metropolitan area.  These members of this organization are made up of business and civic leaders that are truly dedicated to assisting charitable organizations that are in need.
Social Bookmarking
Comments
You must be logged in to post a comment.