Florissant's Veteran's Day Parade & Celebration will be held Sunday, Nov. 7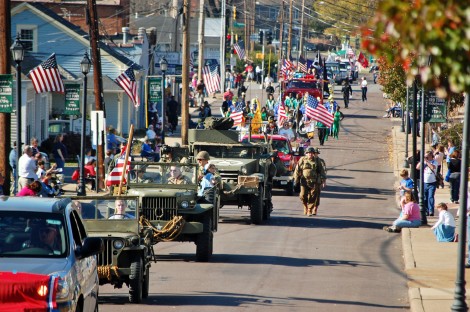 VETERAN'S PARADE: A view of the parade down rue St. Francois last year.
Florissant will hold its seventh annual Veteran's Day parade on Sunday, Nov. 7. The St. Louis County Veterans Coalition is working in cooperation with Florissant to host the parade.
The 2.5 mile parade begins at the corner St. Charles and St. Francois, goes east on St. Francois, one block south on New Florissant to east on St. Catherine, north on Waterford Drive, and ending at the James J. Eagan Center.
The parade will feature restored military vehicles, local marching bands, vintage vehicles and others honoring veterans. Refreshments will be served inside the Eagan Center for parade participants.
The parade grand marshall is 93-year-old Captain Jurdon Henderson, recipient of the Bronze Star for Valor and the Silver Star for Gallantry in Action, March 1945 in Holland.
At the Eagan Center there will be a speeches and the presentation of the Florissant Veteran of the Year, Retired LTC Walter Kaiser. Guest speaker/emcee is Joe Frank, Past National Commander American Legion- retired SGM Carl Hargus.
The St. Louis County Veteran's Coalition is made up to veterans representing the American Legion, Veterans of Foreign Wars, Korean War Veterans Association, Vietnam Veterans of America, Special Forces Association, and others.
The current membership represents all branches of the military and all conflicts since World War II. Membership in the coalition is open to all veteran's service organization.
For information on the parade or applications, call Sheila Linhartat at the Florissant Police Dept. at 314-831-7000.
Social Bookmarking
Comments
You must be logged in to post a comment.