Goldkamp Heating, Cooling & Duct Cleaning Ribbon Cutting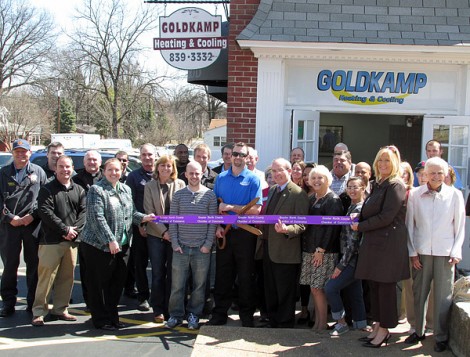 The Greater North County Chamber of Commerce recently held a ribbon cutting ceremony for Goldkamp Heating, Cooling and Duct Cleaning to celebrate the relocation of their office  890 N. Lafayette St. in Florissant. After the ribbon cutting, Sacred Heart Pastor Monsignor Mark Ullrich gave a blessing upon the new location.
Matt Goldkamp, CEO of the company, took guests on a tour of the newly renovated building which now hosts their roomy office space along with a large working area and warehouse. In the future, Goldkamp will be adding a showroom featuring their fireplaces. A large crowd was on hand to help celebrate the event including the Goldkamp family, employees, friends, Florissant Mayor Tom Schneider, Ward 6 Councilman Pat Stinnett and several representatives from the GNC Chamber.
Social Bookmarking
Comments
You must be logged in to post a comment.