Hazelwood Central Takes 34-Game League Grid Win Streak (To) West
By Jim Wieners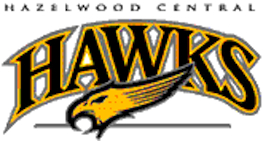 When the St. Louis Suburban Public High School Athletic and Activities Association realigned the Suburban Conferences, Hazelwood Central Football won the last 16 consecutive Suburban North Conference games.
Since the existence of the Suburban XII Conference North Division, Hazelwood Central has won 18 consecutive football games. Now, the 6-1 Hawks put their combined leagues' 34-game win streak (three this season) Saturday, Oct. 7, with a 1 p.m. game at 4-2 Hazelwood West (2-0 in the Suburban XII North).
The winner will not only be alone on top of the Suburban XII North with the Oct. 14 regular season finale left (Central hosts Riverview Gardens while West hosts McCluer High). The winner will also be almost assuring of opening the Class Six, District Two playoffs Oct. 21 at home. Currently, Hazelwood Central is third in Class Six, District Two rankings (40.96 points) while Hazelwood West is fourth (34.45).
Hazelwood Central last lost a conference game on Oct. 15, 2011 when the Hawks lost at home in a district round-robin game to McCluer North, 21-10. Hazelwood West last defeated Hazelwood Central on Oct. 1, 2005 (42-13 at Central — which was Class Six State Runner Up).
On Sept. 23, both Hazelwood Central and Hazelwood West outscored their Ferguson-Florissant District opponents 101-0 combined. Hazelwood Central, at home, routed 2-5 McCluer High 53-0 as Raphael Bell and John Harrison Jr. each ran for three touchdowns. Hazelwood West rolled to a 48-0 shutout at 0-7 McCluer North as Justin Robinson ran for 148 yards and three touchdowns. Darius Cooper passed for 215 yards and 2 touchdowns and Vicario Upchurch had two touchdowns.
Last weekend Hazelwood West and Hazelwood Central narrowly pulled off close no conference wins. On Sept. 29, Hazelwood West held off a late Fox High rally to win 23-21 over the Suburban West Conference National Division leaders in Arnold as Brian Carol booted three field goals. On Sept. 30, Hazelwood Central had a tight home battle with former Suburban North rival Pattonville before the Hawks won in overtime, 33-27, as Bell ran for four touchdowns including the game-winner.
MORE SUBURBAN XII NORTH — Saturday at 1 p.m. Riverview Gardens hosts McCluer North while McCluer High hosts Hazelwood East. Riverview Gardens is 5-2 overall, 3-1 in the Suburban XII North, and Hazelwood East is 3-3, 0-2. McCluer High is 1-2 in the Suburban XII North and lost 30-22 Oct 30 to Northwest Cedar Hill while McCluer North is 0-3.
RIVERVIEW GARDENS got four combined touchdown passes and four touchdown runs from Lawrence Johnson as the Rams won the last two games, both at home. In the Sept.23 conference win over Hazelwood East, 26-6 Johnson ran for 179 yards and three touchdowns. In the Sept. 30 non-conference win over Imperial-based.
HAZELWOOD EAST rebounded from the loss to Riverview Gardens with a 20-14 non-conference win Sept. 29 at Rockwood Summit. Mekhi Hagens completed 14 passes for 329 yards and two first-half touchdowns to Dijion Walls, who caught seven passes for 205 yards.
CONFERENCE CHAMPIONS — Lutheran North (7-0) won the outright Metro League Championship (5-0), their first since winning the 2002 ABC League. The Crusaders shared the 2014 Metro League title with Mary Institute-Country Day School and Westminster Christian Academy. Trinity Catholic (6-0) won their third consecutive AA Association title (3-0).
Friday, Oct. 6 at 7 p.m. Lutheran North and Trinity host non-conference games. Lutheran North plays Breese-Mater Dei (2-4). Trinity hosts 2-5 John Burroughs.
McCLUER SOUTH-BERKELEY hosts Affton Saturday at 1 p.m. to decide the Suburban Central Conference American Division title. McCluer South-Berkeley (5-0) and Affton (4-3) each defeated conference rivals Jennings (1-6) and Normandy Collaborative (0-7), which meet Saturday at noon.
Social Bookmarking
Comments
You must be logged in to post a comment.