Hazelwood East Football To Host Central, West Next Two Weeks
By Jim Wieners
Hazelwood East Football begins Suburban XII Conference North Division play against two Hazelwood School District rivals the next two weeks at Gorzynski Field.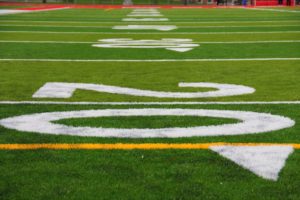 East hosts defending two-time Suburban XII North Champion Hazelwood Central, Saturday, Sept. 9 then welcomes Hazelwood West Sept. 16. The third Hazelwood District game pits Central at West Oct. 7. All three Hazelwood School District games start at 1 p.m.
All three Hazelwood Schools go into Suburban XII North play with identical 2-1 records and all three were 1-1 the last two weeks. While East split the last two on the road, West, which hosts Riverview Gardens Saturday at 1 p.m., and Central, which hosts McCluer North Sept.16 at 1 p.m., each won on the road then each lost at home.
HAZELWOOD EAST lost 30-12 Aug. 25 at Lafayette as the Lancers, with two safeties, outscored the Spartans 28-6 after East, thanks to two Dijion Wall touchdowns, led 6-2 at halftime. The Spartans rebounded Sept. 1 with a 34-13 win at Mehlville with two touchdowns each from Shaun Browder and Maurice Chavers as East led 14-0 after a quarter and 22-7 at halftime.
HAZELWOOD CENTRAL won 34-3 Aug. 25 in O'Fallon, Ill., in the Panthers' season-opener as the Hawks, which led 15-0 at halftime, got two Raphael Bell touchdown runs and two John Harrison touchdown passes. Central's home opener Sept. 2 ended with a 43-26 upset loss to Lindbergh, giving the Flyers a 3-0 start for the first time since 2010. After leading 19-13 at halftime, Lindbergh ran away with a 24-13 second half while Hazelwood Central got a pair of fourth-quarter Qion Butler touchdowns.
HAZELWOOD WEST won 41-0 Aug. 26 at University City, thanks to 108 yards rushing from Charlie Davis and three Krishawn Butler fumble recoveries, as the Wildcats and Hazelwood East outscored the Lions 87-0. West lost a Sept. 1 home heartbreaker to Rockwood-Marquette 20-13 in overtime as the 'Cats, despite 124 yards rushing and two touchdowns from Vicario Upchurch, were unable to score in overtime after Julian Elliot's touchdown gave Marquette the lead.
TRINITY CATHOLIC hosts two Archdiocesan Athletic Association foes including 1-2 O'Fallon (Living Word) Christian Friday, Sept.8, and currently 0-3 and Small Division rival Bishop DuBourg Sept.15 in 7 p.m. games. Trinity has outscored its first two opponents, both from the AAA, 102-0 including 82-0 at halftime as the Titans won 45-0 at home Aug. 25 over Duchesne and 57-0 Sept. 1 at Small Division rival Cardinal Ritter. Isaiah Williams has eight touchdown passes and James Frenchie scored four touchdowns (three receiving) while Shammond Cooper and Marvin Perry each have 16 total tackles.
LUTHERAN NORTH plays two key Metro League games against a pair of current 2-1 foes including Thursday, Sept. 7, 7 p.m., against Mary Institute-Country Day School at Bill Lamothe Field and Sept. 16, 1 p.m., at John Burroughs. Currently Lutheran North, MICDS and John Burroughs are each 1-0 in the Metro League. On Aug. 26, Lutheran North, in their first night game with permanent lights at Lamothe Field, set a school scoring record as the Crusaders steamrolled over Orchard Farm 79-13 then on Sept. 2 LHSN overcame a 14-8 first quarter deficit to win the Metro League opener 59-17 at Westminster CA.
RIVERVIEW GARDENS visits McCluer Sept. 15 at 4 p.m. after visiting Hazelwood West Saturday at 1 p.m. Riverview is 2-1 losing the Aug.18 opener 34-14 at Poplar Bluff then won 30-14 over Northwest Cedar Hill at Meyerkord Field Aug. 26 and 46-12 over Normandy at Viking Field Sept. 2.
McCLUER visits 0-3 McCluer North Friday at 4:15. McCluer, 1-2, lost 44-6 at home Sept. 25 to former Suburban North Conference rival Ritenour then on Sept. 1 won 30-14 at Seckman in Imperial,.
McCLUER NORTH lost at home 44-0 to McCluer South Berkeley and 17-0 at Parkway South.
Social Bookmarking
Comments
You must be logged in to post a comment.