Hazelwood Harvestfest Returns To Howdershell Park Sept. 9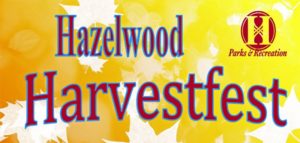 The City of Hazelwood will host another free all-day Harvestfest on Saturday, Sept. 9, at Howdershell Park, 6810 Howdershell Rd., from 9 a.m. to 6 p.m. It offers a variety of fun activities for the young and old alike. Many of the traditional favorites are being brought back, as well as a few new ones to add more entertainment value.
Since the Parks and Recreation Division received rave reviews for adding mechanical rides to last year's Harvestfest, the department has made arrangements to offer new ones. These rides include the Ballistic Swing and the Revenge of the Sea.
The Ballistic Swing goes around and around for the spin of your life! It starts off slow then picks up speed and goes around very fast. The eight buckets can seat up to three kids and 2 adults each so the whole family can ride. The Revenge of the Sea is a smaller version of The Joker at Six Flags. Kids and adults can dream of sailing the high seas as they rock back-and-forth in a pirate ship.
Hazelwood Proud
The annual citywide event brings the community together and helps make residents proud of their hometown.
"Each year we organize the Harvestfest event to say 'thank you' to our residents for making Hazelwood such a great place to live and to make them proud of their community," Hazelwood Mayor Matthew Robinson said.
In addition, North County Inc. (NCI) contends Hazelwood's Harvestfest is a "must see" attraction and has agreed to be a 2017 event sponsor.
Parking will be available at Howdershell Park, as well as at White Birch Park located at 1186 Teson Road. Shuttle buses will be running back and forth on a regular basis.
Hazelwood West Homecoming Parade
Hazelwood residents are in for a double treat on Saturday, Sept. 9 with both the city's Harvestfest at Howdershell Park and Hazelwood West High School's Homecoming.
Because part of Howdershell Road will be blocked off for HWHS's Homecoming Parade Saturday morning, everyone is encouraged to watch the parade and then walk over to Howdershell Park to enjoy fun activities.
Residents living near the east entrance of the park can access it through Village Square road. The starting time for the first horseshoe tournament has been pushed back to 11 a.m. instead of 10:30.
The Miss Hazelwood announcement will be made at 11:30 a.m. The amount of scholarship money for the new Miss Hazelwood has jumped from to $1,500.
Xtreme Obstacle Course
Other featured activities include the Xtreme Obstacle Course, Star Defender Combo, Giant Trikes and a Giant Dual Slide. Test your skills as a ninja warrior on the Xtreme Obstacle Course.
The Star Defender Combo is designed for small children and features a moonwalk area, a crawl-through, a climbing obstacle, an exterior slide and an interior/exterior basketball hoop. Relive childhood memories of peddling a three-wheeler with the Giant Trikes and race to see who's the fastest. And, enjoy sliding down a giant inflatable slide.
The most popular events are back including Bingo, sponsored by Hazelnuts. They are scheduled for noon and 2 p.m.
Paint "NoCo Rocks"
From 1 p.m. to 3 p.m., event goers can try their artistic skills painting NoCo Rocks or Hazelwood Rocks at the T.E.A.M. Food Pantry booth. This is a new cooperative activity between the City of Hazelwood and T.E.A.M.
T.E.A.M.'s Board Secretary and Chief Fund-Raiser Patricia Piotrowicz is talented with creating birdhouses and other crafts. She will be on-hand to give creative suggestions and to make sure there's enough rocks and paint for everyone to use.
This project was inspired by Andrew Harris and his wife, Lindsey, who started NoCo Rocks on Facebook. They encouraged children and adults to show their pride for North County by painting a NoCo design on rocks and leaving them at different places around North County.
Harvestfest Has Variety of Activities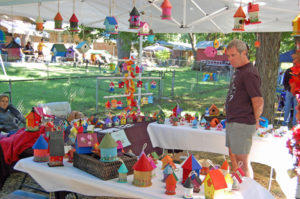 Craft and Food Booths
Crafters who purchase booth space for $35 can showcase their homemade creations. Non-profit groups will be running carnival games and selling food items as fund-raising projects at the event.
Organizations and businesses will be handing out literature at information booths set up in the park as well. Those who wish to reserve a booth at this year's Harvestfest should contact Pam Reynolds at (314) 731-0980. Booth space is limited.
FatPocket to Perform
FatPocket is St. Louis' highest energy party band featuring razor sharp rhythms, hot horns and powerhouse vocals. This "A-List," award-winning band will be bringing the party to Howdershell Park from 2 p.m. to 6 p.m.
FatPocket brings back the live energy of the 60s – 80s, to the Top 40 chart toppers of today. Unlike other cover bands, the horns of FatPocket are up front partying with the singers and audience, strutting their moves for a one-of-a-kind experience. It is a dynamic party band that is new, different, fresh and fun.
City Services Tent
The Hazelwood Parks and Recreation Division staff plans to give away these items, while supplies last, at the tent: spray hand sanitizers; car fresheners; nutty putty (like silly putty); lifesavers; measuring spoons; and spinners.
Members of Hazelwood's Green Committee will be collecting people's recycling pledge cards and offering recycling games and handouts as well.
In addition, Community Enrichment Commission members will be passing out brochures and telling people about the Commission's Community Service Awards Program, Blue Ribbon Home Awards Program, and other City events they sponsor. Plus, they plan to raffle off mums for residents to plant in their yards.
T.E.A.M Food Pantry Donations will be Accepted
There will be on-site location to accept any food donations or cash contributions for T.E.A.M. There will be raffling off three gift baskets also. On a monthly basis, T.E.A.M. supports 800-900 families in the Hazelwood and Florissant areas.
This requires strong support from the public and the 36 churches sponsoring T.E.A.M. to continue providing enough resources to meet this growing need. Unfortunately, May through October is the food pantry's slowest time for donations.
Social Bookmarking
Comments
You must be logged in to post a comment.