Mark Your Calendars! – Updates!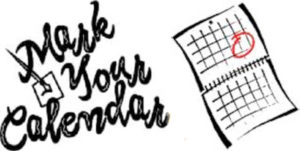 Chalily is hosting "SPLASH" Water Garden Tour, Saturday, Sept. 9 Many water gardeners (including many members of the St Louis Water Gardening Society) are opening their special places to the public for this fall garden tour.
Eleven gardens were chosen by a committee for Chalily, including one in North County (16 Talismanway Drive) will be one of the 11 on tour.
Buses will start at Chalily, then proceed to Landworks off Charbonier.  You can also start the tour at Landworks. Patrons can ride the bus (or drive independently), enjoy three meals throughout the day, and stroll through many lovely gardens. Total cost for all is $30
Vouchers will be available online at www.chalily.com, and at 636-527-2001.
*****
DeSmet Retirement Community is holding its first ever Grandparents Day Celebration on Saturday Sept. 9 from 9-11 a.m. at the facility, 1425 N. New Florissant Road, Florissant. The day will include: Florissant Police Dare Car & Eddie the Service Dog, Cindy's Petting Zoo, outside DJ, inside band entertainment, pony rides, fire truck, kids' tables and activities. Food grilled and provided by the Florissant Fire Dept. Call 314-838-3811 for more information.
*****
The 5th annual Taste of Ferguson will be held Sunday, Sept. 10 from 3-6 p.m. at the Savoy Banquet Center, 119 S. Florissant Road, Ferguson. This year's theme is "The Year of the Champion" with food vendors competing in one of five categories.
The competition line up in BBQ: Paul's Market, Red's BBQ, Roper's Ribs and Sugarfire Smokehouse. Competing in the International category will be Banana Yummies, Breakaway Café, Pho Long Restaurant and The Rice House.
Chicken will feature Drakes's Place Restaurant, London's Wing House, Mimi's Subway Bar & Grill, and Raising Cane's Chicken Fingers. Pizza will feature Amore Pizza, Marley's Bar & Grill, Papa Murphy's Pizza, and Pirrone's Pizzeria.
Dessert will feature Cupcake Fetish, Ferguson Whistle Stop, and Helfer's Pastries & Deli Café. Attendees will vote on who will be this year's Best of Food Tasting Champion.
Social Bookmarking
Comments
You must be logged in to post a comment.