Movie review: 'Horrible Bosses'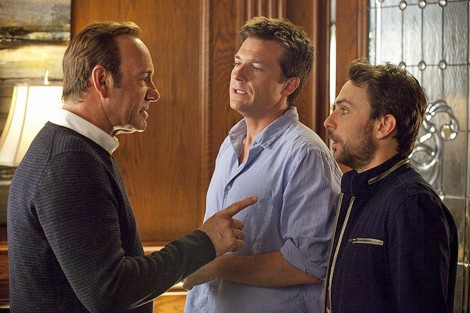 HORRIBLE BOSS Kevin Spacey lays into employees Justin Bateman and Charley Day in the movie.
Horrible Bosses:  A Crude, Funny Dream Film
By Sandra Olmsted
Everyone has had one —that boss who seems bent on destroying the employees, the company, and maybe even the world— can live out fantasies of that evil boss getting a comeuppance  by watching Horrible Bosses.
In director Seth Gordon's comedy, three milquetoast, middle-class drones have bosses who can best be described as people who should never have spindles on their desks, and consequently, these workers spend many hours crying in their beer after work.  Then one night, a joke about killing their bosses starts to look like the best option for all of them.  Gordon has an incredibly fine cast and understood that the casting of the bosses, which are smaller roles, was key making the story work.
Nick Hendricks (Jason Bateman)  work for Dave Harken (Kevin Spacey), a sadistic megalomaniac who truly enjoys tricking and torturing his employees.  Spacey is perfect as Nick's evil boss and seems to truly relish how Harken pretends to groom Nick for a big promotion only to take it away in the cruelest way.
Bateman is the ideal nose-to-the-grindstone guy willing to take Harken's ill-treatment to get ahead and do better than his grandmother.  Dale Arbus (Charlie Day), a dental assistant, is forced to put up with the unwelcome and over-the-top advances of his boss, Dr. Julia Harris, D.D.S. (Jennifer Aniston), because, years ago, his midnight urination in a park when "no kids were around" got him listed as a sex offender.
Aniston also relishes playing the sex-obsessed, dirty-talking Julie, who constantly reminds Dale that only she would give him a job.  She cajoles, demands, and finally blackmails Dale to fulfill her needs, and Dale resists and avoids because not only is Julie's aggressiveness unattractive but he loves his fiancée.  Day plays Dale as an obsequious but decent guy diminished by circumstances beyond his control and threatened with losing his job and the women he loves.
Kurt Buckman (Jason Sudeikis) is the favorite of his boss, Jack Pellitt (Donald Sutherland in a cameo), but Jack isn't long for this world. Jack's son, Bobby (Colin Farrell) is a greedy, hooker-hiring cokehead who takes over the company and uses it as a piggy bank while violating all the anti-pollution laws he can.  Farrell goes so deep into the role that he is practically unrecognizable, and, if such roles in summer comedies got nominated for awards, he would certainly be a worthy candidate.  Even though his womanizing may do the guys in, Sudeikis plays an unassuming man who is catnip to women in a perfectly understated way.
To find a bar where they can hire a hitman, the beleaguered workers consult with the online GPS costumer service agent Gregory/Atmanand (voice of Brian George ).  While he can't tell them that, he can narrow the search by crime stats, and the guys end up in a very tough bar in an African American neighborhood, whose owner makes it clear that he's legitimate business owner not a criminal.
Fortunately, Dean Jones (Jamie Foxx), who has "done time" and who goes by an unprintable in name which is definitely part of the film's R rating, over hears the guys' inquiry and follows them outside.  Foxx is delightful as a wannabe gangsta who agrees not to be the killer but rather the consultant on how to murders the bosses for a mere "five large."
The guys bumble through casing the homes of their victims, small acts of revenge one of which involves a Bobby Pellitt's toothbrush and Kurt's DNA, accidentally saving Harken's life, and plotting murders.  Although they having done much of anything wrong, they might end up framed for one murder, which they only inadvertently cause.
In the process of unveiling the story in Horrible Bosses, director Gordan and the screenwriters take a story that could easily have been a series of skits, even funny skits, and instead give the audience a well-written, fully developed film with excellent roles and the perfect cast
A Warner Bros. Pictures release of a New Line Cinema and Rat Entertainment production, Horrible Bosses is rated and runs 100 minutes.
Social Bookmarking
Comments
You must be logged in to post a comment.