Movie review: Kung Fu Panda 2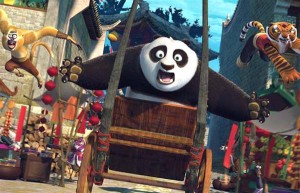 Po, the hero of Kung Fu Panda 2, stars the voice of Jack Black in the new animated film.
By Maggie Scott
The summer film fireworks start early with Kung Fu Panda 2, the animated sequel to DreamWorks Animation's 2008 hit; the second title of what looks to be a very popular franchise whose leading "man child" is the irrepressibly lovable panda, Po (voice of Jack Black).
Po has become a fighting legend after defeating the evil snow leopard Tai Lung; and his father, Mr. Ping (voice of James Hong), doesn't hesitate to capitalize on Po's fame as the "Dragon Warrior" to pack in the customers at his noodle shop.
While Po is still easily distracted by food (the film opens with him trying to set a record for how many bean buns he can stuff in his mouth).  His Furious Five compatriots (tiger, mantis, snake, monkey and crane) are careful not to rest on their laurels, but to be ever vigilante for any threat to the Valley of Peace.
News of marauding wolves stealing metal from villages interrupts Po's "inner peace" lesson with Master Shifu (voice of Dustin Hoffman). It seems that a Lord Shen (voice of Gary Oldman) is intent on declaring it the Year of the Peacock; vowing that "all China would bow at his feet," with the subjugation of opponents by his battery of super cannons.  The origin of Shen's dreams of mastery appears to be parents who hated him.
He believes that happiness must be taken, and happiness for him seems to be destroying pandas based on a prophecy by his soothsayer (voice of Michelle Yeoh) of his defeat at the hands of a black and white warrior.
Taking over Gongman City, Shen has imprisoned formerly formidable fighters: Master Ox (voice of Dennis Haysbert) and Master Croc (voice of Jean-Claude Van Damme), who tell Po that it is "time to surrender, kung-fu is dead."  They are afraid that resistance will mean the massacre of everyone.  But, the fight for Po gets personal when he is able to access memories of his panda mother, dead at the hands of Shen's thugs, whose sacrifice to save Po led to his adoption by a goose running a noodle shop.
Confronting violence with inner peace and understanding that where you came from is not as important as "who you choose to be, now" are the expected moral lessons most kids stories these days seek to transmit.  The lessons here won't stick in the mind so much as the amazing animation (3-D), and the hysterically cheeky voice work by Jack Black.  Po comes off like a combo of Lou Costello and "the Dude" Liebowski; and he is a complete delight.  A must see for the kids and deserving of consideration for next year's Oscars.  Rated PG.
Social Bookmarking
Comments
You must be logged in to post a comment.