Never to late to shop Locally for the Holidays
What Better Place to Shop Locally For
Christmas Than Old Town Florissant
             By Nichole Butler
All you want for Christmas this year might just  be found in  and around Old Town Florissant.
There are several reasons to shop locally. Why? There is that perk of supporting the small businesses, most of which are housed in historic buildings and owned by fellow Florissant residents.
Then, there is the very obvious thought that shopping locally usually means less traffic, less lines at the check-out, and, as written on a Christmas coupon from Silver Moon Shop on rue St. Francois, "Don't Get Malled… Skip the angry mob shopping… Be kind to yourself, shop small!"
Unless you venture into these adorable little shops that line the streets of Old Town Florissant, there is one perk to local Christmas shopping that may not be quite so noticeable just from driving down the street… the quality of the  merchandise and  the people behind the counter.
Florissant is home to two amazing florist shops. What better way to decorate for Christmas than with evergreens, poinsettias, and holiday floral arrangements? Both Dooley's Florist & Gifts and Stems, located down the block from one another on rue St. Francois, are fine examples of what Christmas in a floral shop should be. Walking through the doors of these shops will give you that "My cup runneth over" feeling of warmth and joy. While they are both florist shops, and they are both splendid, each offers a different and yet equally enjoyable environment and each supplies a wide variety of lovely items.
Available at Dooley's are the amazing, one-of-a-kind WoodWick Candles in all sorts of holiday scents. (The fireside scent is superb, and it's worth a visit to Dooley's just to sneak a sniff of it!) A large variety of Christmas ornaments are available at both shops. At Stems, the ornaments are displayed on seven different Christmas trees; each uniquely designed in a different theme.  Anyone can come in and vote for their favorite tree.
Across the street from Stems is Silver Moon Shop, where owner and artist Pam Behlmann has transformed the historic 1909 Studeman House into a stenciling masterpiece. From the walls to the floors, which is literally just plywood stenciled to look like real hardwood, the shop is cluttered with everything adorable.
Korte's on rue St. Francis, also has its own history; though instead of the building, the history resides in the family who started the company in 1946 and has been running it for the past 65 years.
"My dad started the company as an appliance store," current owner Michele Reynolds explained. "We later got into sporting goods, and eventually started custom framing. If you can think of it, I've probably framed it. I have even once framed a cookie for someone."
Though custom framing is what Korte's is officially known for, there are many nice items available for purchase. From photo albums to painted wine glasses to recipe books and boxes, it is inevitable that someone could enter the shop and find something perfect for that one person on their Christmas list that already has everything. Korte's even has added a new section of their shop available for creative residents to rent out and sell their merchandise. One woman who embellishes and monograms everything from aprons to napkins currently has her items available for purchase at the shop and Korte's is seeking more venders.
residents to rent out and sell there merchandise. One woman who embellishes and monograms everything from aprons to napkins currently has her items available
There really is nothing wrong with tossing a bottle of perfectly fragranced cologne into a guy's stocking, but perhaps this year it might be fun to include a little something unexpected.
O.S.I Sports Collectables, located on North Jefferson kitty corner from Korte's, has lots of  affordable sports memorabilia available for purchase. You won't just find baseball cards when you walk in. O.S.I has loads of goodies, from a signed miniature box of Wheaties cereal, to a signed Cardinals baseball bat, to a signed Blues jersey. They also offer copies of collectible coins and paper money, perfect stocking stuffers for men of all ages.
A little farther down from Old Town is perhaps a bit of a hidden gem in Florissant – Andrea's Boutique, owned and operated by Andrea D'Angelo, who grew up in Florissant. The shop is a bit on its own, since it is located at 1145  North Lafayette near Lindbergh, but it is still close and well worth the find. D'Angelo opened her shop while trying to decide what she wanted to do when she grew up. "I wanted something that could incorporate all of the things that I loved," D'Angelo said. Indeed, she has.
Art, furniture, jewelry, purses, clothes… it can all be found at Andrea's Boutique. The shop is a vintage lover's paradise. Enjoy soft music as you stroll through, sizing shoes or admiring D'Angelo's paintings, and the thumb through a glorious selection of fur coats and purses while taking in the old Hollywood movies that she has playing in the front room. Take a break at her store on one of the most comfortable couches you'll find anywhere
A newcomer to the Old Town scene is another upscale boutique, Brief Reflections Resale LLC, where you won't believe that the merchandise here is pre-owned. Owner Juanita Miller offers many top of the line clothing labels, plus accessories like purses and shoes and jewelry, items that  you would find at many West County locations.  Brief Reflections is located at  111 rue St. Francois, at the western most edge of Old Town, just two blocks from Old St. Ferdinand Shrine.
Old Town Florissant has a lot of unique and thoughtful gift ideas, many of which cannot be found in one-stop shops. There are too many creative little shops to mention, each with its own genre of beautiful merchandise from the jewelry at Don Henefer Jewelers (you know what she wants guys!) to the link's equipment at Golfclub Liquidators.
Before heading out to the big, name-brand department stores, one might want to check out what is in their own backyard first. Both you and the one you love might be surprised at exactly what could be found under the Christmas tree this year.
For a list of Old Town businesses visit: www.florissantoldtown.com, or just drive around Old Town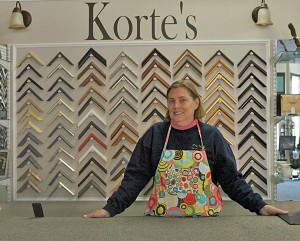 The new owner of  Korte's in Old Town
Florissant is  Michele Reynolds
Social Bookmarking
Comments
You must be logged in to post a comment.