North County Collecting Hope This Week, Packing, Wrapping Simple Shoe Box Gifts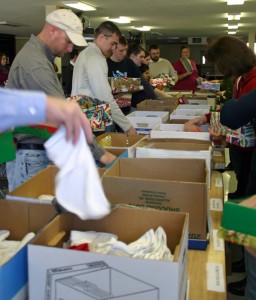 Getting the boxes packed for delivery are these volunteers at Parker Road Baptist Church.
This week hundreds of North County kids, families, businesses and churches are joining thousands of volunteers across America to make a difference in the lives of 8 million hurting children this Christmas.
Kids and families are wrapping and packing empty shoe boxes with simple items most people take for granted, including toothpaste, toys and school supplies.  During National Collection Week, Nov. 15-22, they may drop off their shoe box gifts at one of 11 drop off sites in the St. Louis Metropolitan area.  Operation Christmas Child will then use whatever means necessary—sea containers, trucks, trains, airplanes, helicopters, boats, elephants—to hand-deliver the gifts to hurting children in more than 100 countries.
The North County collection site is Parker Road Baptist Church, 2675 Parker Road,
Monday  (Nov. 15-22). Times for collection are:  Mon: 8 am-3 pm, Tues. 8 am-3 pm, Wed.  1 -6:30 pm, Thurs. 8 am-3 Pm, Fri. 8 am-3 pm, Sat. 9 am-1 pm, Sun. 2 -5 pm and Mon: 8 – 10 am. The church's phone number is 314) 831-6671.
Operation Christmas Child, a project of international Christian relief and evangelism organization Samaritan's Purse, is the world's largest Christmas project.  Since 1993, Operation Christmas Child has collected more than 77 million shoe box gifts and hand-delivered them to needy children in more than 130 countries. For many of these children, the simple shoe box will be the first gift they have ever received.
Samaritan's Purse uses tracking technology that allows donors to "follow your box" to the destination country where it will be hand-delivered to a child in need.  Using the EZ Give donation form found at www.samaritanspurse.org, families can register their boxes and find out where in the world their box brought joy to a child.
For more information on how to participate in Operation Christmas Child or to find other area  drop-off site, visit www.samaritanspurse.org.
Social Bookmarking
Comments
You must be logged in to post a comment.