North County Inc. Salutes 30 Leaders in their Thirties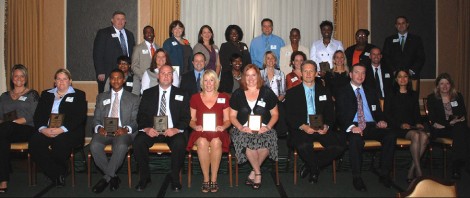 North County Inc. honored this year's top North County 30 Leaders in their Thirties at a luncheon on Sept 23.  This  group of up-and-coming professionals and volunteers who are making a difference in the North County area were recognized at the NCI Salutes 30 Leaders in their Thirties reception at Norwood Hills Country Club.
2011's 30 Leaders in their Thirties leadership award recipients:  
Teisha Ashford, Pattonville School District
Michael Bober, Eagle Springs Golf Course
Kristin Bork, Lutheran High School North
Melissa Burton, City of Overland
Alan K. Byrd, UM – St. Louis
Mark Byrne, City of Ferguson City Council
Nichole Conley-Harrison, Queenz of Fitness II
Rhonda Ely, Ed.D., Hazelwood  District
Sheilah Fitzgerald, Hazelwood District
Matt Goldenberg, U.S. Bank
Ashley Gregory, Ritenour School District
Kelly Grigsby, Ed.D. Special School District
Harold Hendricks, SL Airport Marriott
Dobbie R. Herrion, SLCC – Florissant Valley
Chris Jaco, Incarnate Word Academy
Patty Kallal, Christian Hospital
Cara Koen, Federation of Catholic Schools
in the Northeast Deanery
Mike LaChance, Ritenour School District
David C. Malone, Retirement Solutions, LLC
Bill Mitchell, Hazelwood School District
Tika Nazareth, Ph. D. Betty Jean Kerr
People's Health Centers
Jamie Newell, SSM Healthcare – St. Louis
Octavia Pittman, City of Berkeley
Loraine E. Raziq, Ed.D., Hazelwood District
Anthony Scotti, Scotti's Deli & Catering
Ebony Smith, UM – St. Louis
Tiffany Smith, Delmar Gardens North
Jenny Thomasson, Stems Florist
Kristy Tucciarone, Ph.D., UMSL– St. Louis
Mark Weller, Ed.D., Ferguson-Florissant District
"We are proud of this impressive group of community, civic, and business leaders who as young adults are excelling in their professions and making a difference in North St. Louis County.  This campaign lets us show our appreciation for their contributions to our community," said Rebecca Zoll, President/CEO of North County Inc.
Event sponsors were : Bommarito of Hazelwood, Honda, Nissan, Volkswagen and Ford, Commerce Bank, Christian Hospital, Delmar Gardens, Favazza & Associates, Ferguson-Florissant School District, GTN – Gateway Television News Network, Incarnate Word Academy, ManorCare, St. Louis County Economic Council/St. Louis County, St. Louis Community College at Florissant Valley, SSM DePaul Health Center, Stems Florist, Suburban Journals, University of Missouri – St. Louis and US Bank. A special mention to Kent Miller Photography for working this event.
Social Bookmarking
Comments
You must be logged in to post a comment.