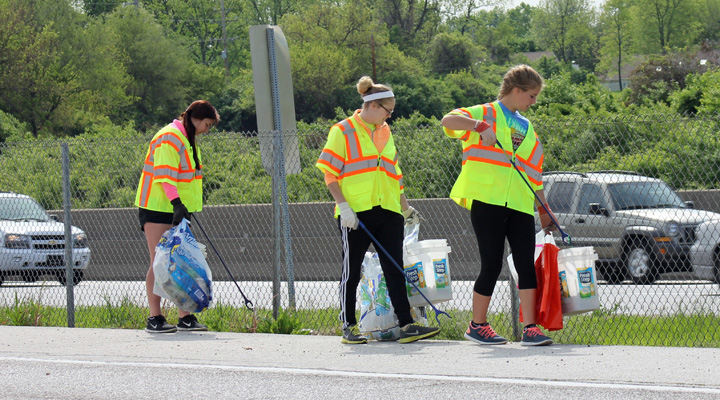 Briana Barr, 2014 Miss Hazelwood, leads other Hazelwood West classmates and parents in picking up litter and trash in Hazelwood.
Miss Hazelwood, City Green Committee, West High School Students Team Up Against Litter
Read more on City, Hazelwood West Students team up against Litter…
                                        Hope MLS Commissioner Finds
                                        Our What We Already Now
Read more on Hope MSL Learns What we already know here…
   Hawthorne Players will  present "Cowboy Swing" a delightful evening of songs and comedy   " on Saturday, May 30 at 8 p.m. in the Florissant Civic Center Theatre.  Tickets are $15 and will benefit the Duckie DeMere Scholarship Fund.  Order before May 22 and purchase two tickets for only $20.  Call the Box Office at 314 921-5678. The performers are:
Read more on Cowboy Swing at Civic Center May 30…
Hyatt-St. Louis Quarterly Brewhouse
Beer Dinners Brings New Experiences
                             by Pat Lindsey
It's not just beer and pretzels and bar food anymore at The Brewhouse Historical Sports Bar in the downtown St. Louis Hyatt. Get ready for quarterly gastronomical experiences as local craft breweries pair their creations with multi-course original meals prepared by Brewhouse Sous Chef John Zimmerly.
Read more on Hyatt Brewhouse Dinners May Start a Trend…
Hazelwood Central, McCluer Win
District Boys Track And Field
                   By Jim Wieners
In the first year of Five Class Track & Field Hazelwood Central begins their quest to be the first Class Five Boys Champion while McCluer took advantage of being in Class Four.
Read more on Boys Prep Sports…
Hazelwood Central Girls Track &
Field Rolls Over McCluer North
               By Jim Wieners
From the results May 16 at the Class Five, District Three meet at Lutheran High School North it appears as if Hazeelwood Central is on a mission to win state for the second time in three years after finshing third last year, 19 points behind last year's champion McCluer North.
« Previous Entries
Next Entries »