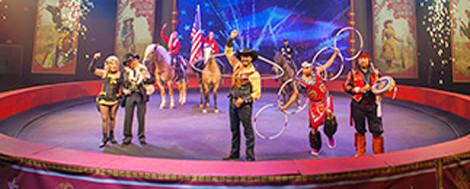 The performers at Silver Dollar City's Wild West, a must see show at this fall's National Harvest & Cowboy Festival
Cowboys, Hoop Dancer, Canines Will
Take You For a Few Lopes at Festival
Read more on Wild West Show big hit at National Harvest & Cowboy Festival…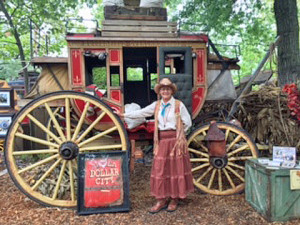 Arkansas Bev Hambry (left) and her husband
donated this 1880s stagecoach to Silver Dollar City
'Journey' Stagecoach Finds Its Way
Back Home to Silver Dollar City
         Text and photo by Pat Lindsey
Back in the early days of Branson's Silver Dollar City, the Herschend family purchased an authentic 1880 stagecoach for their Butterfield Stage Line in their theme park. Throughout the 1960s and 70s, children enjoyed taking stagecoach rides through Silver Dollar City, but the coach was eventually retired and presumed lost.
Read more on National Harvest & Cowboy Festival…
Florissant to Clarify Education
Centers Zoning Code Changes       
               By Carol Arnett
The Florissant City Council's first September meeting included several items requiring council action and one public hearing about a request to amend the zoning code for clarification of a special use for educational development centers.
Read more on Defining Day Care and Child Centers…
New Miss Hazelwood Is Crowned
At Harvestfest's Coronation Event
The City of Hazelwood announced that Alyssa Hotze, age 16, a junior at Hazelwood West High School, is Miss Hazelwood 2016. She was crowned with this honor at the Miss Hazelwood Coronation held at the Hazelwood Harvestfest on Sept. 10 in Howdershell Park.
Read more on Alyssa Hofze-Miss Hazelwood…
Rotary Club Loses Bid to Manage
The Florissant License Office
The Rotary Club of Florissant has recently lost the bid to manage the driver's license and vehicle registration office located in Florissant. Rotary Club has managed the license office since 1994.
Read more on Residents urged to use the facility before Sept. 30…
Thursday, Sept. 8
   Modern Square Dancing at Florissant Valley Christian Church, 1325 N. Hwy 67, every Thursday for 10 weeks beginning at 7:15 p.m. Casual attire and $5 p/p per night. Registration and first class begins Sept. 8 Call (314) 839-2134 for info.
Read more on Florissant Sept. Calendar…
« Previous Entries
Next Entries »