The Hazelwood School District took part in National Signing Day on Wednesday, Feb. 4. A total of 28 seniors from Hazelwood Central and Hazelwood West High Schools accepted college athletic scholarship and signed letters of intent to play college sports.  The student athletes are listed below:
Read more on Hazelwood Seniors Accept College Athletic Scholarships and Sign Letters of Intent…
The St. Louis County Missouri Regional Championships of Poetry Out Loud were held earlier this month at the Florissant Civic Center Theatre. Poetry Out Loud is a national poetry recitation contest supported in all 50 states by the National Endowment for the Arts and the Poetry Foundation.
Read more on Florissant Civic Center Hosts Poetry Out Loud Regional Championships…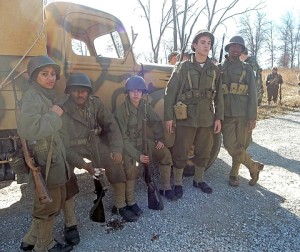 Out of the classroom and into the trenches is where you would have found our Advanced History class January 16-17. North County Christian School Advanced History class trains throughout the semester so they can be approved to participate in a WWII Reenactment at Camp Clark in Nevada, MO. Our students are not alone at Camp Clark: men, women, and students from several states representing the US, Italian, Russian and German armies come together for a week-end of reenactment. This semester, our students will be studying the Civil War which will conclude with a Civil War reenactment in April.
Read more on NCCS Advanced History Class Participates in WWII Reenactment…
 By Bob Lindsey
The Ferguson-Florissant School District Board of Education last week introduced Dr. Joseph Davis as the new superintendent, effective July 1.
The board unanimously approved Davis' appointment on Jan. 30 and directed the negotiation of his contract. The contract, signed on Feb. 6 and ratified by the Board on Feb. 10, will run July 1, 2015 through June 30, 2018. Davis will receive an initial annual salary of $200,000.
Read more on Ferguson-Florissant District Names Joseph Davis New Superintendent…
The Saint Louis County Department of Health is strongly urging all residents to stay current with all recommended vaccinations.
"The recent measles outbreaks around the nation should remind us all of the importance of receiving all recommended vaccinations," said Dr. Faisal Khan, director of the Saint Louis County Department of Health. "Measles was considered to have been eradicated in the United States by the year 2000, but now it is back because of people not staying current with their vaccinations."
Read more on County Health Department Urges Everyone Stay Current with All Recommended Vaccinations…
Alpha Players' second show of its 56th season – E.P. Dowdall's Parfumerie –will play the Florissant Civic Center in March.
Read more on Alpha Players Presenting 'Parfumerie,' A Sweet and Timeless Scent, in March…
« Previous Entries
Next Entries »