The 31st annual National Night Out (NNO) will be Tuesday, Aug. 4. NNO is designed to:
Increase crime and drug prevention awareness
Raise support for and participation in local anti-crime programs
Read more on Florissant Residents, Police Join in 2015 National Night Out Aug. 4…
   By Tom Anselm
The Florissant City Council had just one public hearing on the agenda at Monday night's meeting. However, the discussion that ensued dominated the evening's discourse. Continued to this month's agenda because the petitioner was not present at the June meeting, the request by Connie Bobo for a Special Use Permit to operate Taste Buds Catering, Inc., was met with questions from almost all councilpersons.
Read more on Florissant Council Has Lots of Questions About Catering/Day-Care Plans…
By Jim Wieners
After four years of playing in Blue Springs, a Suburb of Kansas City, the Missouri State High School Activties Association is reportedly returning the state Boys Soccer championships to the St. Louis area.
Read more on Boys State Soccer Returns To St. Louis…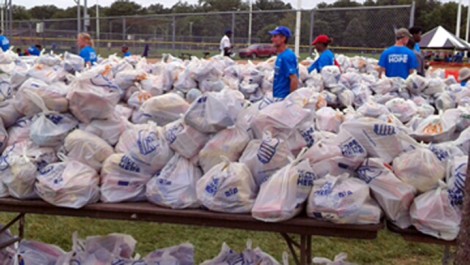 Hundreds of bags of food were piled high and each family in need got a bag full at the Ferguson 'Day of Hope event Saturday, July 25 at Ferguson's Forestwood Park.
Read more on Ferguson's Holds 'Day of Hope' event…
The Ferguson-Florissant School District is partnering with Head Start to offer residents five full day weekly preschool classes for 3- & 4-year-olds. Head Start income and employment based eligibility is necessary. Classes are held at McCluer South-Berkeley High School and Griffith Elementary School. Both programs are open 7:30 a.m. to 5:00 p.m. For additional information call 314-595-3910.
Read more on Ferguson-Florissant School District Offers Free Preschool, Head Start, Child Care Centers and Parents as Teachers…
70th Anniversary of 'Carousel' Fitting for Hawthorne Players
(Special to The Independent News)
When the curtain opens for Hawthorne Players' production of Rodgers and Hammerstein's musical Carousel at the Florissant Civic Center Theatre on July 31, it will mark the 70th anniversary of the show's debut in 1945, as well as the founding of Hawthorne Players in December of that same year.
Read more on Classic at Civic Center Opens July 31…
« Previous Entries
Next Entries »