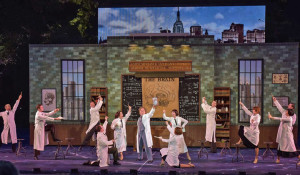 Young Frankenstein is a Brainy,
Zany Night of Comedy at the Muny
by Pat Lindsey
   In typical Mel Brooks style, "Young Frankenstein" debuted on The Muny stage this week with zany humor that's often silly, but always laughable. Rapid-fire jokes and sexual innuendos timely executed by an amazingly talented cast make this show a hit and one that will certainly return to The Muny in the future.
Read more on The Muny Show this week…
The Dog Days of Summer: 3
Films to Relief the Doldrums

By Sandra Olmsted
In the case of Mike and Dave Need Wedding Dates (Fox release), Mike (Adam Devine) and Dave (Zac Efron) are the high-fiving, chaos-causing dawgs of the Stangle family. At every family gathering, especially weddings, the brothers wreck the celebration, destroy things, and cause injuries. Now, they must bring nice girls as dates to their only sister's Hawaiian wedding or stay home.
Public Meeting July 26 On
Master Plan for Manion Park
The City of Florissant's Parks and Recreation Department, is seeking public input and discussion on the city's proposed master plan for Manion Park at 170 Manion Park Drive, Florissant..
Read more on Florissant Proposes Manion Park Plan…
Judging Ms. Missouri Senior Contest Again Is Always Eye-Opening
By Randy Gardner
I had an eye opening experience again this year as I emceed the annual Ms. Missouri Senior America Pageant this past Sunday at the Florissant Civic Center. As I've said before, I really think it's important to stay active and healthy. I don't always follow my own advice, however, as I often get on a roller coaster of fitness.
Read more on Ms. Missouri Senior Contest; Card's MVP…
American National 16-Under Baseball Leads SLABA North
By Jim Wieners
American National Eagle Baseball's 16 and Under team entered the regular season finale by leading the St. Louis Amateur Baseball Association 16 and Under North Division prior to July 11.
Read more on American National Eagle Baseball…
Hazelwood's White Birch Bay Hosting Second Teen Aquatic Night
The great turnout for Hazelwood's first "Bash at the Bay Teen Night" this summer at White Birch Bay Aquatic Center has caused event organizers to get the word out early for teenagers, ages 13 to 17, to pre-register for the next event on Friday, July 15, from 8 p.m. to 11 p.m. Those who pre-register by purchasing their tickets early will be guaranteed admission into the facility for this popular pool party.
Read more on Bash at the Bay Teen Night is Back…
« Previous Entries
Next Entries »