Hazelwood Police Introduce 'Safe Trade Zone'
For Buying and Selling
To minimize risk and vulnerabilities
With more people using Facebook groups and Craigslist to buy, sell, and trade property online, the Hazelwood Police Department has introduced the availability of a Safe Trade Zone in a video posted on Facebook.com/HazelwoodPD.
Read more on Hazelwood Gets New 'Safe Trade Zone' for Residents…
Boeing Awarded Flag of Freedom from Gov. Nixon for Show-Me Heroes Program
Gov. Jay Nixon joined Leanne Caret, president and CEO, Boeing Defense, Space & Security, in St. Louis to present the company with a Flag of Freedom award, recognizing the company's commitment to hiring veterans through Missouri's Show-Me Heroes program.
Read more on Gov. Nixon Awards Boeing Flag of Freedom…
Watching Olympics is Awesome;
Putting Them On is Unbelievable
By Randy Gardner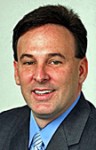 It is hard to believe that the Olympics only happen once every four years. In that time you can go through high school, you can go through college, or you can raise a child and almost get them into kindergarten.
Read more on Relax with 2016 Summer Olympics…
Florissant Girl Beats All Odds of Survival; Throws Out First Pitch at Busch Stadium
By Nichole Richardson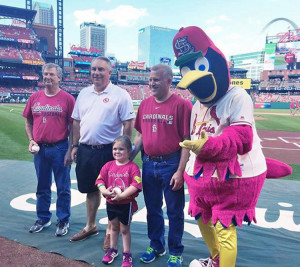 Eleni Scott, of Florissant, is getting ready to celebrate her fifth birthday on Aug. 26—a birthday she was never supposed to see, according to the grim medical statistics. Scott was diagnosed at eight months old with a fatal and extremely rare developmental disorder called alveolar capillary dysplasia with misalignment of pulmonary veins (ACD/MPV).
Read more on Incredible Girl Fights Rare Disease…

'Aida' Closes Muny's 98th Season
On a High Note of Love and Peace
by Pat Lindsey
The final show of The Muny season is always bittersweet because it signifies that the end of summer is near and we'll have to wait until next June to enjoy sitting beneath the stars and losing ourselves in the genius of Mike Isaacson again.
Read more on Variety Was Key to Muny Season…
McCluer North Boys Soccer, Girls
Softball Opens With Tournaments
By Jim Wieners
Tournaments will open the 2016 Fall season for McCluer North Boys Soccer and Girls Softball teams.
McCluer North Boys Soccer will be in the Fort Zumwalt North Tournament to begin 2016. The Stars will play in Pool A and the first two games will take place at Fort Zumwalt East, beginning Aug. 20 with an 11 a.m. game against Fort Zumwalt West then return Aug. 23 with a 6 p.m. game against Zumwalt East. McCluer North wraps up the tournament Pool A play Aug. 24, 5 p.m. at Lutheran-St. Charles County.
Read more on HS Softball and Soccer Openers…
« Previous Entries
Next Entries »