Florissant Residents Voice on Pit Bull Ban;
Council Approves Popeyes Restaurant
By Carol Arnett
The Florissant City Council met Monday night and heard from several Florissant residents and other people regarding the city's pit bull ban. The speakers would like the city to repeal legislation that bans pit bulls from the city. Several people in the audience wore orange, the color of animal abuse awareness.
Read more on Pit Bulls and Popeyes…
Films for 4th of July Weekend
by Sandra Olmsted
In addition to The BFG opening in time for the summer holiday, several other films opened recently or will open this weekend. Along with adventure and excitement, a few also offer more esoteric topics and revisit or rewrite history.
Read more on New or Upcoming Summer Movies…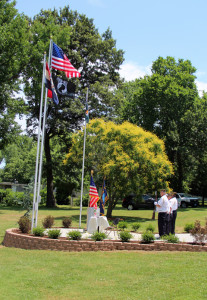 More than 100 persons showed up Sunday at St. Ferdinand Park for the dedication of the Korean War and Defense monument
with the color guard raising the flag  at the beginning of the dedication service on a hot afternoon.
Read more on New Korean Momument at St. Ferdinand Park…
The BFG is Not Such A
Friendly Adaptation
   by Sandra Olmsted
Read more on The BFG Falls Short…
Two Florissant Residents Given Highest Boy Scout Honors by Greater St. Louis Council
John Kavanaugh and Rance Thomas 
Dedicated Scouting volunteers John Kavanaugh and Dr. Rance Thomas of Florissant, Missouri were honored by the Greater St. Louis Area Council, Boy Scouts of America with the Silver Beaver Award, the highest recognition a Boy Scout council can award to volunteers. The Silver Beaver recognizes noteworthy service that impacts the lives of youth and outstanding contributions to the Scouting program. Just 24 Silver Beaver Awards were given in 2016 from a pool of nearly 12,000 Greater St. Louis Area Council volunteers.
Read more on Boy Scouts Honor Two Florissant Residents…
Hazelwood's Annual Fireworks Display at White Birch Park July 4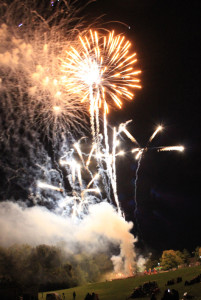 The City of Hazelwood is gearing up to present another spectacular pyro-musical fireworks display for residents and guests on Monday, July 4, at White Birch Park, 1186 Teson Road. The show is scheduled to begin at dusk, around 9:15 p.m. The event is free and open to the public.
Read more on Hazelwood Fireworks at White Birch Park…
« Previous Entries
Next Entries »