Sunday's Veterans Day parade throught Florissant makes Its final turn as it heads for the Civic Center for a program to honor  all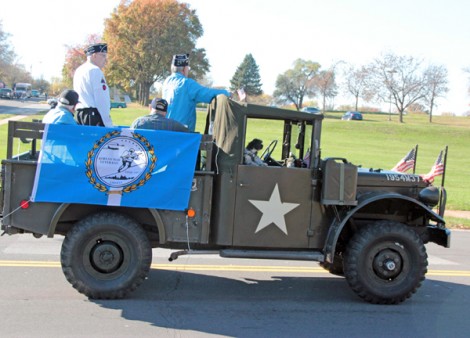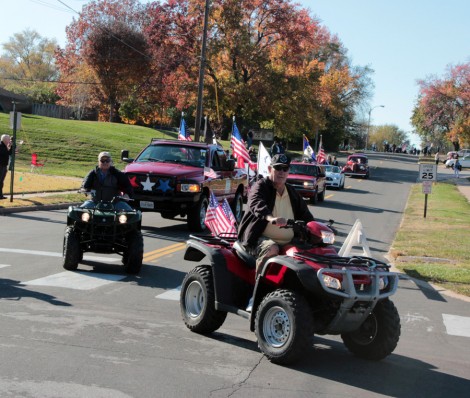 those who served
Veterans Parade Concludes
With Ceremony & Honors
Another great weather day for the Veterans' Parade was followed by a presentation of the Veteran of the Year award was held on Sunday, Nov. 8 The great weather help provided an enthusiastic turn-out to pay tribute to our veterans said Mayor Thomas P. Schneider.
 by Sandra Olmsted
While sentimentality is often viewed as a distortion of reality in American culture, in The 33, director Patricia Riggen embraces a different cultural norm, popular in the Spanish-speaking world, of using sentimentality to heighten reality. She even throws in a little magical realism when the 33 men eat their last miniscule rations.
Read more on The 33: Sentimentality and Terrific Performances, Latin American Style…
by Sandra Olmsted
Each year the St. Louis International Film Festival (SLIFF) bring an amazing array of film to the St. Louis public including some first run movies that haven't opened yet, and some films which will never play in anywhere else in St. Louis. Because playing at SLIFF qualifies films for to be considered for a nomination by the Academy of Motion Picture Arts and Sciences, many of the international films are the "official selections" of their country of origin. Thus they are consideration as Best Foreign Language Film, of which five will be nominated for an Oscar.
Read more on There is Still Time to Enjoy The St. Louis Film Festival…
On Thursday, Nov. 5, three Florissant Police Department officers were honored at the 46th annual Crusade Against Crime Medal of Valor Awards Ceremony. All received recognition for their distinguished act of bravery above and beyond the normal demands of a police officer.
Read more on Florissant Police Officers Awarded Crusade Against Crime Medal of Valor…
Shoeboxes Are Packed For Kids Around the World
Florissant families, churches and groups are not waiting until Thanksgiving Day to express gratitude. Instead, they are giving back by lovingly packing gifts of joy for children around the world living in extreme poverty or affected by war, disease and natural disaster. For many of these children, it will be the first gift they have ever received.
Read more on Operation Christmas Child Shoebox Campaign Begins in Florissant Next Week…
This December senior citizens in Florissant will have the opportunity to attend a private concert by Lindenwood University's Acapella Choir and to eat at Lombardo's, one of St. Louis' finest restaurants. Tickets for these trips are now on sale.
Read more on Concerts and Italian Food on the Docket For Florissant Senior Citizens in December…
« Previous Entries
Next Entries »