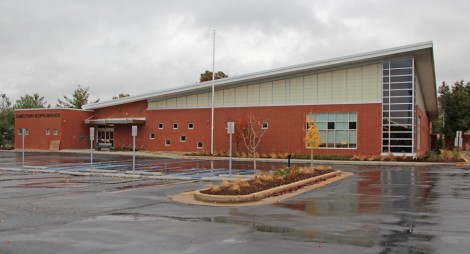 The newly renovated Jamestown Bluffs Branch of the St. Louis County Library, 4153 N. Highway 67, will reopen Nov. 12. Among the improvements made in the facility are an expanded children's area, a large teen space, and a business center. The computers are new as well. The library will also offer community meeting rooms and private study rooms to meet the needs of patrons and the community. Library hours will be 9 a.m. to 9 p.m. Monday through Thursday and 9 a.m. to 5 p.m. Friday and Saturday. The facility will be closed on Sundays.
Read more on Jamestown Bluffs Branch Reopens…
The premiere of the video of "Florissant's Historic Treasures" was held Oct. 27 and 28 at the James J. Eagan Civic Center Theater. The five-part documentary series produced by the Florissant television station FCTV was edited to produce the hour-long feature video seen by over 400 citizens, who gave it a standing ovation.
Read more on Documentary 'Florissant's Historic Treasures' Well-Received at Its October Premiere…
The Hazelwood Parks and Recreation Division is teaming up with the Hazelwood Police Department in a collaborative effort to promote personal safety and community interaction with law enforcement. These organizations are co-hosting an Escape and Evasion Course for residents on Saturday, Nov. 14, in the Hazelwood Community Center gymnasium from 8 a.m. to 11 a.m.
Read more on Hazelwood Police, Parks Dept. Holding Escape and Evasion Course on Nov. 14…
Christian Hospital Emergency Medical Services paramedics will deliver non-perishable food items donated by BJC HealthCare directors and senior leadership throughout the metro-St. Louis area in conjunction with a meeting held at Christian Hospital on Nov. 3. Meeting participants were asked to donate to the food collection to help keep area food pantries well supplied with the approaching holidays.
Read more on BJC and Christian Hospital EMS Join Urban League Food Pantry Collection…
By Randy Gardner
I can't believe the feedback that I have received on my column over the past few weeks about cheating. I don't know if it is the aspect of cheating or the aspect of teaching my kids honesty and integrity, but it has really struck a nerve. I have had several people stop me and tell me about their personal stories, some going back 20 and 30 years ago.
Read more on Cheating in Youth Sports Prompts Lots of Feedback…
By Jim Wieners
While area high school football teams saw their seasons end as late as last weekend (see related article on Hazelwood Central) Lutheran High School North and Cardinal Ritter College Prep remain alive in Class Two.
Read more on Lutheran North, Cardinal Ritter In Class 2 Football Quarterfinals…
« Previous Entries
Next Entries »