Thursday, May 12
   St. Mark's Fashions for Food clothing sale, 315 Graham Road, 8:30-11 a.m. All proceeds go to local food pantries. Sale is held on the second Thursday of each month. (972-7838)
Read more on Mark Your Calendar…
25th Walk through History Plaque
The City of Florissant, along with Old Town Partners, will host a dedication to unveil a plaque in honor of the late James C. "Jay" Russell. This will be the 25th Walk through History plaque in honor of someone who has made a valuable contribution to the City of Florissant.
Read more on Florissant, Old Town Partners To Honor the Late Jay Russell…
Florissant Redistricting Report Shows
Only 1 Minority Ward in City Proposed

                       By Carol Arnett
The city council Monday night held four public hearings including one to review a city Redistricting Commission report.
Read more on Florissant City Council…
Queen Crowning is Always Highlight of Valley of Flowers  
         By Nichole Richardson
This year's 54th annual Valley of Flowers queen coronation was once again held at the St. Rose Philippine Duchesne Knights of Columbus Pavilion on Sunday afternoon. The 2016 theme was "Valley of Flowers Celebrates…The World of Entertainment."
Read more on Florissant Honors winners…
Pretty Baby Winners & Parade Units Honored
photos b Bob Lindsey

The 2016 Valley of Flowers Festival wrapped up with the announcement of the awards for the winners in the Pretty Baby contest as well as the parade units at the end of the parade Sunday, May 8.
Read more on Valley of Flowers winners…
2016 Valley of Flowers Queen and Court (L-R): Queen Katie Wissler (Winschel Carpet Service from Incarnate Word Academy. First runner up Ally Frey (Incarnate Word, Cannoli's), Special maids Rebecca Bazan (Lutheran High School North, Old Town Donuts), Jennifer Welch (McCluer North High School, Don Henefer Jewelers), Tori Turpin (Marquette Catholic High School, Dooley's Florist and Gifts)                                                   Nichole Richardson photo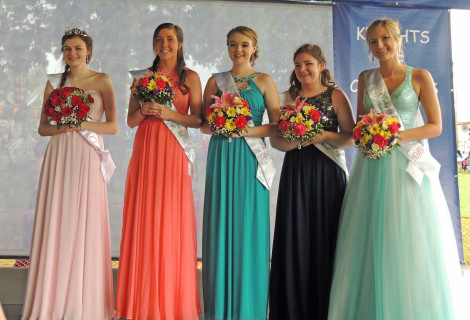 Read more on Valley of Flowers crowns 2016 Queen Katie Wissler…
« Previous Entries
Next Entries »