Officer Steve Michael from the Florissant Police Department and some enthusiastic young readers who participated in the Largest Book Party – St. Louis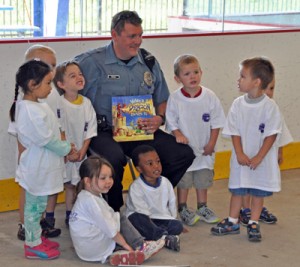 Mayor Schneider, Police Chief Lowery and members of the Florissant Police Department and Florissant Valley Fire Protection District hosted and participated in the third annual "Largest Book Party – St. Louis" at the outdoor roof of the James J. Eagan Center ice rink on Monday, Sept. 14.
Read more on Largest Book Party Promotes Reading to Young Children…
The Hazelwood School District (HSD) Board of Education has issued a Request for Proposal (RFP) for a highly qualified search firm to assist in finding a new superintendent for the district. The targeted date for the change in leadership is July, 2016.
Read more on Hazelwood District Seeking Firm to Conduct Search for New Superintendent…
The Ferguson Commission has opened a formal Request for Qualifications process to select a Core Intermediary. This one organization or a partnership of organizations with a designated lead is needed to provide infrastructure and support to advance the work of the Ferguson Commission.
Read more on Ferguson Commission Seeks Core Intermediary for Day-to-Day Operations…
A Boomer's Journal
By Tom Anselm
With all due respect to a certain civil rights leader, last night I had a dream.
Now, it was nothing near his noble thoughts. I have crazy dreams, such that when the lovely Jill and I greet each other in the morning with 'hello, luv…how'd ya sleep?" I usually can respond with 'fine, but crazy dreams."
Read more on Dream a Little Dream For Me, and Other Assorted Nightside Mayhem…
   A 30-day comment period regarding Florissant's Fiscal Year 2016 Annual Action Plan for the Florissant Community Development Block Grant (CDBG) Program will end at 5 p.m. on Thursday, Oct. 15, 2015.
Read more on Comment Period For CD Block Grants Action Plan Ends Oct. 15…
By Jim Wieners
McCluer North is one of 32 sites, 16 per class, that will be hosting District Girls Tennis, which begins Sept. 28 with the first round of team tournaments and end Oct. 3 with inidvidual (singles, doubles) tournament finals.
Read more on McCluer North Hosts District Girls Tennis, Girls Golf At Crystal Springs Quarry…
« Previous Entries
Next Entries »