Baseball Districts Begin May 15; Track
And Field, Girls Soccer Begin May 16
By Jim Wieners
May 15 begins the final stretch of High School Athletics in Missouri with Baseball Districts while Track And Field will hold Districts for Classes Three, Four and Five on May 16, which is also begins Girls Soccer.
Read more on Valley of Flowers winners (photos by Bob Lindsey)…
Read more on Scenes from Valley of Flowers Parade May 3…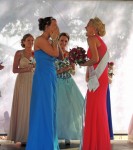 The 2014 Valley of Flowers Queen Alex Phifer
celebrating her last moments as queen by crowning
Courtney Neisler as the 2015 Queen.
Another Perfect May Day For Valley of Flowers and
Community, Law Enforcement, Commission Develop
Proposed Model for Law Enforcement Training Standards
Community and law enforcement leaders came together with members of the Ferguson Commission Thursday, April 30, to endorse a baseline model for improved law enforcement training standards in Missouri. The model calls for an additional 24 hours each per three-year period in the areas of tactical, anti-bias and officer wellness training for a total of 120 additional hours of police training. The model came out of the Ferguson Commission Citizen-Law Enforcement working group and was developed in consultation with key community, law enforcement and subject matter experts.
Read more on Ferguson Commission Meets…
By Randy Gardner
What a way to start off the week by losing one of the cornerstones of the Cardinals pitching group, Adam Wainwright.
It looked like such a simple play as he left the batter's box after a short hit. This in my mind goes back to players who train specific parts of their body for specific sports and forget about the rest of their body.
Read more on Who's To Blame For Sports Injuries?…
« Previous Entries
Next Entries »