Warrants Issued on Burglary Suspect After Months of Investigation
A burglary suspect is now in custody after Florissant Police have been looking tirelessly for him for the last five months. Wayne M. Collins was arrested by Florissant Detectives on Wednesday May 4th in the 200 block of Brighton Park Dr. in St. Charles City. Detectives had been looking for Collins in connection with a burglary which occurred at C&C Cell Phone Repair located at 1141 N. Highway 67 in Florissant, on Dec. 17, 2015
Read more on Florissant Police make arrest…
Hazelwood Receives Finance Award
For Eighteenth Consecutive Year
The Certificate of Achievement for Excellence in Financial Reporting was awarded to Hazelwood by the Government Finance Officers Association (GFOA) of the United States and Canada for its comprehensive annual financial report (CAFR). This is the highest recognition a city can receive for its financial reporting, and Hazelwood has been so honored for the past 18 years.
Read more on Honors for Hazelwood…
By Sandra Olmstead
Director Gerry Marshall continues his exploration of holidays with Mother's Day, which celebrates moms and at the same time reduces them and those they mother, marry, divorce, or abandon   to stereotypes played by a large ensemble cast of good actors. Unfortunately, despite some laughs, the trite dialogue and predictable, soap-operaish plots make Mother's Day a pleasant but less than memorable diversion.
Read more on Mother's Day: A Little Fun, Not Much More…
By Randy Gardner
I am one of those people that never wear a replica team jersey, especially on the day that they play a game but today is different. The Blues are playing tonight (which is Tuesday) and I am pumped up. I am a big Blues fan, a big sports fan in general, but I am really digging this Blues team this year. They never give up and that's what I love about sports in general.
Read more on I'm Wearing My Blues Jersey for Home Games…
Annual Festival in Florissant Promises a Weekend of Fun
Since 1963, the Valley of Flowers Festival celebration has been the "first festival of spring," featuring a variety of events, including a superb parade. Events included in this three-day celebration are a flower and plant sale, culturally diverse performances, baseball games, a classic car show, a vendor/craft fair, flea market, a pretty baby photo contest, children's activities and, of course, good food. Carnival games and exciting rides are featured at the Duchesne Knights of Columbus Fairgrounds.
Read more on 'Valley of Flowers Celebrates . . . The World of Entertainment'…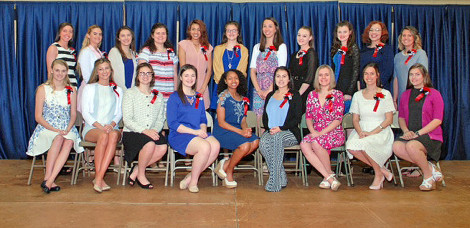 Seated L-R: Claire Jackson, Tori Turpin, Holly Hennessey, Katie Wissler, Nyia Cockrell, Mia Hutchason, Mckenna Morris, Abbey Freihoff, Bria Luem.
Standing L-R: Ally Frey, Lexi Conner, Kayleigh Fite, Carmen Stevens, Lexie Shanklin, Lily Kostecki, Maddie Dickson, Rebecca Bazan, Jennifer Welch, Ayiana Dickson, Allison Meyer.
Read more on 2016 Valley of Flowers Queen Candidates…
« Previous Entries
Next Entries »