All Propositions in Florissant, Hazelwood Pass
by Big Margins on April 5th Ballot

Florissant residents approve Propositions B, R, and A. Prop B in Tuesday's elections with big margins. Props A, B won by better than 2-1 margins, while Prop R, which was opposed by some real estate and rental apartment owners still won by 4,240-2,527 in unofficial results reported Wednesday.
Read more on Leslie Hogstead and Connie Harge elected to 3-year terms on FFSD Board…
Auditions April 10 For Musical 'Hairspray'
Hawthorne Players has announced auditions for the musical "Hairspray" at 2 p.m. on Sunday, April 10, at the Florissant Civic Center Theatre, 1 James J. Eagan Drive, 63033. Prepare a 1-minute comedic monologue and 32 measures of music. Please bring your music in the key you intend to sing. An accompanist will be provided. The audition will include cold readings, vocal audition, and choreography. For more information visit www.hawthorneplayers.info and complete and download the audition form.
Read more on Hawthorne Players:…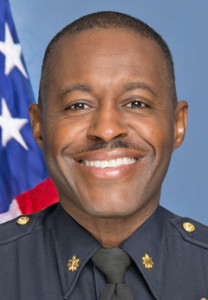 Ferguson Names Miami Police Dept.
Official as City's New Police Chief
Following a three month nationwide search, Major Delrish L. Moss of the Miami, Florida Police Department, has been named the new Police Chief for the Ferguson, Mo. Police Department. The announcement was made March 31 Moss, currently supervises the Miami Police Department's Public Information/Community Relations sections.
Read more on Delrish Moss is new Ferguson Police Chief…
By Jim Wieners
Trinity Catholic Girls Soccer began a new era March 23 with a 5-0 shutout over McCluer North at James Eagan Field at Eagan Civic Center, across Waterford Drive from the Ferguson-Florissant School District Administration Building and McCluer North High.
Read more on Trinity Girls Soccer Opens With 5-0 Shutout Over McCluer North…
By Randy Gardner
If you are a soccer fan like I am, you have to be disappointed in the United States National soccer team. I should maybe correct myself and say, are you disappointed in the players, the game or the coaching?
Read more on Should The Coach Go If U.S. Soccer Team Fails To Qualify For World Cup?…
By Jim Wieners
It was a winning Track & Field day before Easter, March 26, for the Hazelwood West Boys in O'Fallon, Mo. and for the Hazelwood Central Girls in the Clayton-University City area.
Read more on Hazelwood West Boys, Hazelwood Central Girls Win Track And Field…
« Previous Entries
Next Entries »