Story and photos By Nichole Richardson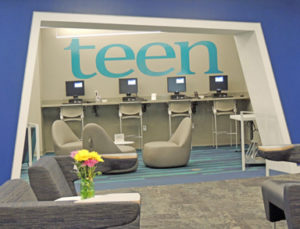 The newly renovated Florissant Valley branch of the St. Louis County library, located at 195 New Florissant Rd., is a gold mine of the unexpected. From the outside looking in, it appears not much has changed, but the moment you walk through the doors it's evident that a major transformation has taken place.
Thanks to the Your Library Renewed campaign, 5,000 square feet of usable space has been added at the largest library in North County by re-purposing what was district storage space. The branch is now home to 49,842 items and underwent extensive renovations since its closing late last October and is a far cry from it's original opening in 1965.
More than 4000 people attended throughout the grand re-opening day Aug. 2 and there were a number of activities planned to celebrate the reopening including face painting and balloon art for the kids, a special story time, a visit by Christian the Magician and a program for adults called "Nothing but the Blues" featuring live blues music.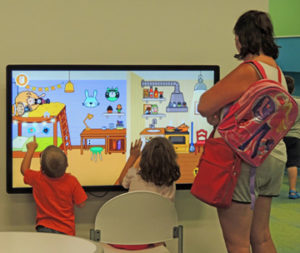 It appears the building designers, Bond Architects, hit the mark on a fun, interactive learning experience for all ages-but especially for children.
The bulk of the lower level is now the children's Discovery Zone, sponsored by Emerson, and "designed to encourage children to explore, play, and learn," and it certainly does just that. The Zone features a pneumatic tube display, an interactive "Light Bright" wall, a giant white board magnet wall, and two large format touch screens where kids can play games using educational apps.
In addition, there is the Early Explorers' Area sponsored by the Dana Brown trust established by the late coffee giant Dana Brown.
The space is designed for small children with reading nooks, interactive literacy panels, and a metal tube maze with movable rings for them to maneuver through loops and arches.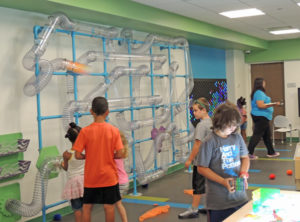 There are also two revamped community meeting rooms on the floor.
"Library Administration has been talking for a long time about how to transform our children's spaces and make them destination places for kids and families. Florissant Valley is the first branch to feature a Discovery Zone. We have plans to introduce Discovery Zones at other branches as well, including Daniel Boone and Meramec Valley," explained St. Louis County Library director Kristen Sorth.
So Much More now Available at Florissant Library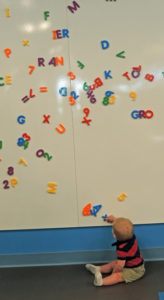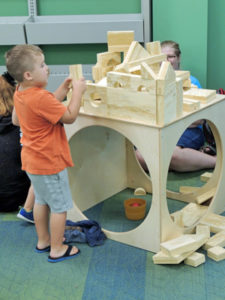 "These spaces will have all sorts of interactive features that we feel allow curiosity, play and trial-and-error and cooperation–the things that set kids up to be great students at school and to be great readers."
Upstairs is home to circulation space, three private study rooms, a quiet reading room, a lap top bar, a vending area,  and a business center equipped with fax, copy, scanning, and printing capabilities. New shelving, furniture, and carpeting have been installed throughout the branch as well.
Aside from the glorious external changes, the inner library workings are just as impressive. While patrons can still rent the typical books, DVD's, CD's, and magazines, they may not know the vast array of other resources available to them.
Guests can rent video games for different gaming consoles, portable media devices with built in e-books (playaways),flip-kits, sci-finders, and even telescopes!
Family lineage buffs will delight in the 98-year-old National Genealogical Society books which include more than 6,000 family histories and abstracts of records of cemeteries, churches, courts, deeds, and marriages, among other things.
Another lesser known feature the library offers is Homebound Service. It is a free delivery service for those confined to their homes by illness, disability, or advanced age. Requested items will be mailed to patrons in a zippered bag and service includes a free return label. Book discussion kits, large print books, and DVD's with captioning are also available. Senior centers can even request a library van come to their properties.
The Florissant Valley branch also hosts classes such as Yoga, Adult Art Hour, Story Time, and free Driver's Ed programs. Patrons can even Book-a-Librarian to help them learn to use the library's electronic resources or use the hoopla app to stream movies, music, and more with just a library card.