Schedule a Fall Boat Tour
Spirit of Peoria Paddleboat Makes Beautiful Fall Sightseeing Tours
Story and photos by Nichole Richardson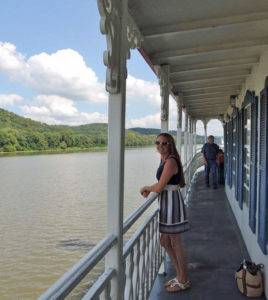 Architect Alan Bates did not disappoint when he designed the layout for the famed Spirit of Peoria paddleboat. Built in 1988, the 275 ton, 385 passenger lady offers a host of cruises that explore the Illinois and Mississippi Rivers.
The massive paddlewheeler is one of the few left that doesn't use props or thrusters and is propelled solely by its 21' diameter paddlewheel. The Spirit has twin Caterpillar 3412 diesel gensets that in turn, allow two 40-foot-long by 1-foot-wide chains to turn the candy red glorious wheel. And what a sight it is!
My mother, Debbie, and I took the lunch tour on a beautiful sunny day Aug. 30. The Spirit picked us up at The Loading Dock in Grafton,IL, departed at 12:30 p.m., and pushed up river toward Hardin on a quick two hour jaunt.
Boat owner and Captain, Alex Grieves, explained the boat churns along between 7-10 mph, topping out at 15 mph, depending on route.
The build of the boat is spectacular, with its open air and deck side seating, and even rocking chairs aft by its gigantic wheel. The view from the lower decks is amazing and I can't imagine what a stunner it is from atop the captain's quarters behind the 7' diameter maple steering wheel.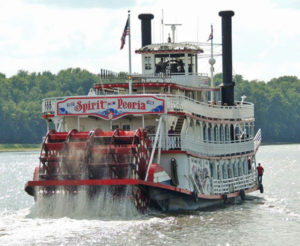 The whole patriotic-toned Americana of The Spirit especially stands out against its black, regal, fluted stacks. Once the boat's history was discussed, we were told to go to the second floor to enjoy a buffet-style lunch.
Food choices included cucumber salad, coleslaw, bread sticks, spaghetti, green beans, corn, and carved ham. There was also a watermelon fruit salad and strawberry cake slices for dessert. In general, the food was good, but the caveat was that some drinks, such as soda, were not included. Additionally, the boat only accepts cash or check. While that fits with the old-fashioned essence of the boat, it would have been convenient to accept credit cards. Still it was a charming and pleasant experience.
There was quaint, live entertainment by way of music and story. Self-described "river laureate," Brian "Fox" Ellis, amused the crowd with his tales of folklore and narrative based on his fictional diary of a woman in the 1800s. Barry Cloyd mixed stories of travels and history into his guitar and vocal solos for pleased patrons.
Overall, the trip was well received by everyone on board, even those who drove a distance to cruise the vessel. JoeAnn Preston, of Sullivan, drove an hour and a half with a group of 32 from Temple Baptist Church to join The Spirit.
"I'd encourage anyone to come! It's been wonderful with the different things and they handled the crowd really well. There was certainly something for everyone," said Preston.
   The Spirit of Peoria will be making two more stops in Grafton this year, Sept. 20 and Oct. 11, and offers several tours including sightseeing, lunch, and dinner cruises. For those wanting more than a day trip, 3-5 day cruises are available from Peoria to St. Louis, Hannibal, and Starved Rock, amongst other ports. The boat is also at hand for private charters and themed cruises such as murder mystery.
Tickets start at $25 per person and go up depending upon the tour. For more information call 309-637-8000 or visit spiritofpeoria.com
Social Bookmarking
Comments
You must be logged in to post a comment.