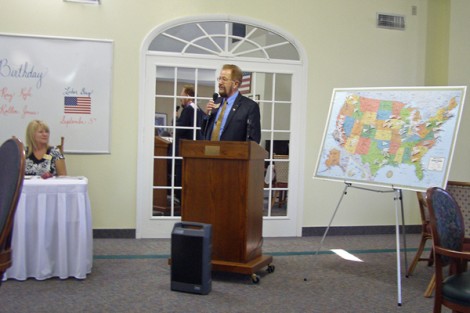 RHF officials including CEO Dr. Laverne Joseph (left)  and board chairman Dr. John Trnka spoke and displayed a large map of all the RHF properties nationwide.Seated at right in St. Catherine property manager Stacey Montero. Bottom photo: The dining area at St. Catherine's was packed with residents and family for the anniversary event.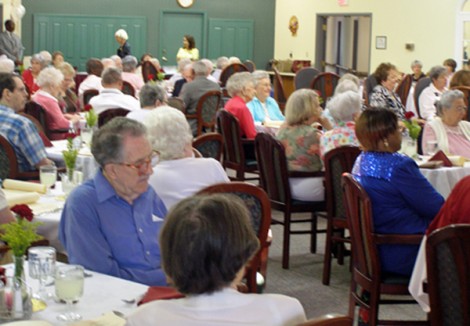 Top officials from RHF ( Retirement Housing Foundation) came to St. Catherine Retirement Center for a luncheon with staff, residents and local officials early this month.  The day before they held a similar luncheon with staff and residents of DeSmet Retirement Center, also a part of the RHF family.
Guest speakers included Florissant Mayor Tom Schneider, State Senator Tim Green and local representatives from the staffs of Missouri Legislators and Congressman William J. Clay. Florissant and the Missouri Senate had proclamations to present.
Featured speakers were Dr. Laverne Joseph, president/CEO of RHF and Dr. John Trnka, RHF Board of Directors who told the staff and residents "they are the reason for RHF's success. Both praised the local communities and the staff. Other RHF officials were introduced.  Each staff member at St. Catherine's was introduced by Property Manager Stacey Montero.
                    -Bob Lindsey