The Fate of the Furious: Drag, Race
by Sandra Olmsted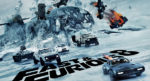 The eighth installment in the Fast and Furious franchise varies vastly from an exciting and stimulating race and sometimes the movie drags, yet it does offer escapism. In terms of comparison to other movies in the series, it is by far not the worse, having benefited from improvements in special effects over the years and from F. Gary Gray's direction.
While Dominic "Dom" Toretto (Vin Diesel) and Letty (Michelle Rodriguez) honeymoon in Cuba, Raldo (Celestino Cornielle) tows the car of Dom's cousin Fernando (Janmarco Santiago) and reminds Fernando exactly what he owes. Of course, Dom challenges Raldo to a street race, and the win will get both cars. Soon, Cipher (Charlize Theron) persuades Dom to work for her with an implied threat. The missions that she coerces Dom into doing will include commandeering a nuclear sub.
Meanwhile, Hobbs (Dwayne Johnson) and a special agent, DS Allan (Patrick St. Esprit) round up Letty, Tej (Ludacris), Roman (Tyrese Gibson), and Ramsey (Nathalie Emmanuel) for a mission in Berlin. Someone has a weapon that can takedown the power grids of majors cities world wide. It quickly seems that Dom's new boss, Cipher, is that someone.
Hobbs ends up in prison where he meets follow prisoner Deckard Shaw (Jason Statham) and Agent Frank Petty, aka "Mr. Nobody" (Kurt Russell), and his new partner, Eric Reisner, aka "Little Nobody" (Scott Eastwood). The rest of the crew. meanwhile, hides from police and wonders why Dom betrayed them. It is revealed that Cipher has Elena (Elsa Pataky) captive. Helen Mirren as Magdalene Shaw, mother of Owen and Deckard, rounds out the huge cast.
With enough plot for several movies, director F. Gary Gray's first contribution to the franchise packs a punch of escapism and excitement with wild races and epic battles driven by the latest advances in computer-generated special effects. The movie's escapism especially struck a cord with audience as evidence by its phenomenal, opening-weekend, global box office take of $532 million which out strips Disney's Star Wars: The Force Awakens.
   The problems with The Fate of the Furious lie in a very uneven script and dialogue which although occasionally funny and even well written, they simply drag the film down with exposition explaining the overly supped-up plot. The humor, furthermore, won't appeal to everyone, yet there are moments of broad humor.
The eighth installment is rated PG-13 for prolonged sequences of violence and destruction, suggestive content, and language and runs and 136 minutes which, thankfully, races along. For escapism, and lots of it, see the Universal Pictures release, The Fate of the Furious, which is on theaters now.
Social Bookmarking
Comments
You must be logged in to post a comment.