Volunteers Make St. Angela Merici's Garden Grow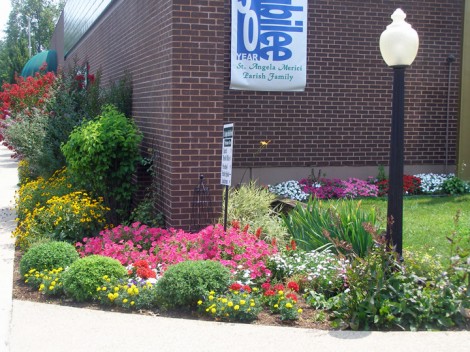 St. Angela Merici Church started a garden about eight years ago to beautify the church and school grounds. By all accounts, the garden has been a great success.
A team of volunteers puts in about 20 hours a week to maintain the garden. Watering in extreme heat takes at least an hour. In the spring, they put in extra hours to get everything planted. In the fall, they put in more hours to get the garden ready for winter. Some tropical plants are dug up to spend the winter in volunteers' homes.
Volunteers plant approximately 1,000 annuals a year. The garden also contains several varieties of perennials.
Volunteers get most of their plants from the church's own plant sale in the spring. Several volunteers will also pick up plants for the church when they buy for their home gardens. In addition, parishioners will sometimes split perennials and offer some to the church.
Waldbart Nursery has donated mulch and provided free delivery to the garden. They have also cut landscaping stones for free.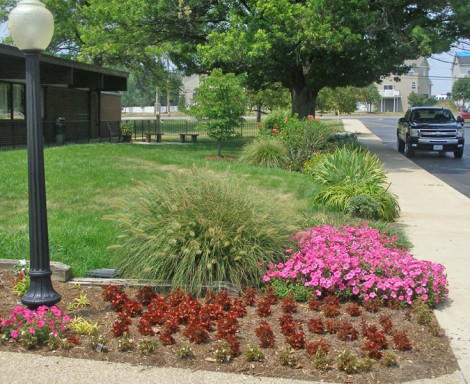 The garden started approximately eight years ago in response to a previous pastor, who asked for ideas to improve the appearance of the church and grounds. Volunteers answered the call with the garden.
"The garden is typical of St. Angela that people pitch in and get things done," said Rev. Thomas Keller, the current pastor. "The garden is another way of praising God and making the world a better place."
Keller praised the volunteers for the time they put into the garden. "It's a great joy to so many people," he said.
-Carol Arnett, photos by Bob Lindsey
Social Bookmarking
Comments
You must be logged in to post a comment.