by Sandra Olmsted
As summer begins to fade, and the days grow shorter, we may all regret the summer adventures we did or didn't have. Fortunately, a good summer movie can take us on a wild, even scary, ride, or dramatically provoke thought about serious issues or provide escape through laughter, although comedies have been few and far between this summer.
Several films, which opened August 4, deserve a look see.
Director Kathryn Bigelow, who is one of the few women to win a directing Oscar (The Hurt Locker, 2008), recounts the brutal events of Detroit riots in July 1967 with Detroit, (Annapurna Pictures), a dynamic, power depiction of race, injustice, and prejudice in America. During the racially charged incident at the Algiers Motel, which precipitated the largest race riot in American history, the 12th Street Riot, three black men die and seven black men and two white women are brutally beaten. All the performances are equal to the power of the historical events and Mark Boal's fine script, but I fear the ensemble nature of the film will cheat some of these fine actors, such as John Boyega, Will Poulter, Algee Smith, Jacob Latimore, and Jason Mitchell, of much deserved Oscars. A must see! Rated R for strong violence and pervasive language; 143m.
   An Inconvenient Sequel: Truth to Power (Paramount) continues Al Gore's argument about climate change and how it will effect the world in the coming years; unfortunately, like all call-to-arms documentaries, regardless of the issues, it preaches more to the choir than the outsider. Although Gore's focus is more about governments and a little less about big business this time, he still holds everyone ignoring or denying climate change accountable for the future of our planet. It also addresses claims from the first film, such as the predicted flooding of the 9/11 site by raising ocean levels with footage of hurricane flooding of the site a few years ago. The film also dips more into a profile of Gore as the climate change champion and why he has decided to be the someone who stands up and speaks the truth about the dire consequence of mankind not changing its ways. A decade of new data and more cataclysmic events and predictions persuasively make his case. Unfortunately, Gore's relevant look at the worldwide environmental crisis lacks a call to action at the end, which leaves the audience wondering what to do next, except maybe to accept it is too late to act. And maybe that's the nihilistic point, which might scare people into doing something, anything. Rated PG for thematic elements and some troubling images; 98m.
These films, which open August 11, provide adventure and escape and ask tough questions, too.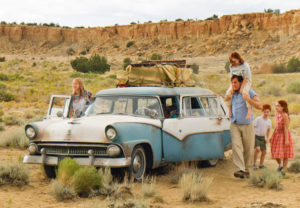 Director Destin Daniel Cretton's The Glass Castle (Lionsgate) explores the problems and pleasures of family and unconditional love. After years of living in the poverty-ridden, nomadic choas of her father Rex's (Woody Harrelson) unrealistic dreams and her mother Rose Mary's (Naomi Watts) enabling behavior, Jeannette (Brie Larson) finally breaks free and carves out her own successful life far from the madness of her family. While the past haunts her emotionally, she continues to create her own future until her family and her past catch up with her. Now, she must decide to forgive and to love or not. Rated PG-13 for mature thematic content involving family dysfunction, and for some language and smoking; 127m.
In Whose Streets? (Magnolia), documentary directors Sabaah Folayan and Damon Davis take an unflinching look at how the killing of 18-year-old Mike Brown inspired the Ferguson community to fight back and sparked a global movement. Folayan and Davis respect the audience enough to show diverse opinions and many levels of extremity within the movement, such as "This is not your daddy's civil rights movement" or "Who gives a f*** about voting?", which went too far for some. They also use biographies of real people, who changed their lives, put their careers on hold, and got involved, such as Brittany Farrell, whose face emerges from the crowd to become one of the main "characters." Folayan and Davis use mostly social media post video to tell the story of Ferguson in a new way, not beholden to police versions or national television's sensationalism. Rated R; 90m.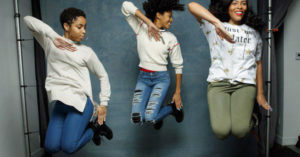 In Step (Fox Searchlight), Amanda Lipitz's brilliant feature film directorial debut entertainingly documents the hope and dreams of high school seniors on an all girls' high-school step dance team. Against the backdrop of inner-city social unrest in the troubled city of Baltimore, these girls use success in dance as a means and end to be the first in their families to attend college and to train themselves in the fine art of discipline and determination. Truly awe inspiring and your feet and heart will want to dance along with these teens becoming young women, including Paula Dofat, Blessin Giraldo, Cori Grainger, Tayla Solomon. While in some ways they become archetypes, they still mantain their humanity and provide a positive message about valuing the young people struggle to achieve success. Rated PG for thematic elements and some language; 83m.
Two films designed simple as popcorn viewing for a summer's day are Annabelle: Creation (WB) and The Nut Job 2: Nutty by Nature (Open Road), although each deals with loss in someway. It is pretty easy to see why Annabelle, the doll with a desire to kill and possess, has to have a scary creation story. (Rated R for horror violence and terror, 109m.) Nut Job 2, of course, picks up after the survival-driven robbery of the nut store in the first film, and now the squirrel and other animals must defend their home against a mayor who wants their park to be uprooted for an amusement park. (Rated PG for action and some rude humor, 91m.)
A few films which opened July 28 deserve mentioning.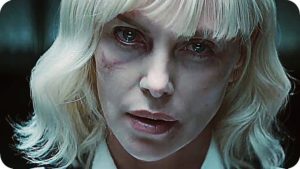 Director David Leitch helms Atomic Blonde (Universal), an action spy thriller with Charlize Theron as the female lead. Theron plays Lorraine Broughton as both a Bond girl and James Bond Cold War spy. When an agent is murdered and a list of double agents goes missing, MI6 agent Broughton is sent to retrieve the list for her own British spy agency and the American CIA. She'll have to decipher what side David Percival (James McAvoy), Spyglass (Eddie Marsan), Emmett Kurzfeld (John Goodman), and Delphine Lasalle (Sofia Boutella) are truly on. The film is based, like most action films, around the fight scenes, which are fortunately well choreographed, shot, and edited. The best surprise is the complexity of Theron's Broughton who kicks ass as needed and also uses her intelligence and sexuality to do her job done like every 1930s movie heroine did. Rated R for sequences of strong violence, language throughout, and some sexuality/nudity; 115m.
What can I say about director William Oldroyd's Lady Macbeth (Roadside Attractions)? In Alice Birch's brilliant adaptation of Nikolai Leskov's brutal novella, "Lady Macbeth of Mtsensk," teenager Katherine (Florence Pugh) is sold as part of a land deal to elderly coal magnate Boris (Christopher Fairbank). Boris weds her to his middle-aged son Alexander (Paul Hilton), who has no interest in her except to torture her and not produce the heir his father wants. Always watched and judged by the men and their employees, such as the impassive maid Anna (Naomi Ackie), Katherine, who wanted the joys of marriage and position, isn't a girl to take being cheated lying down, except when she's with her lover. Katherine lures the cocky groomsman Sebastian (musician Cosmo Jarvis) into her bed and scandalized the countryside. What lengths will Katherine go to enjoy her position and her life? It's a lovely, dark, brutal tale wrapped in gothic melodrama and hinting at contemporary issues of gender equality and race relations because of the colorblind casting, and Pugh's excellent performance in the meaty roll of Katherine screams Oscar, along with the rest of the cast. Rated R for some disturbing violence, strong sexuality/nudity, and language, 89m.
Written and directed by David Lowery, the esoteric A Ghost Story (A24), is told from the POV of the recently deceased C (Casey Affleck), who tries to stay connected to his beloved wife, M (Rooney Mara), who grieves but has no choice but to move on because she is still alive. Anchored to the house they rented, C wanders the world and time draped in a mortuary sheet and looking like a child's version of a ghost; he ponders existential questions about love, loss, and life. Although slow moving, it is also eternally hypnotic. Rated R for brief language and a disturbing image; 92m.